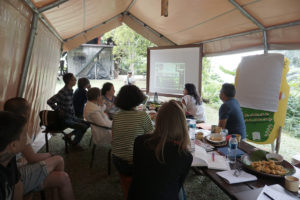 It was our intention to begin by sharing roles, authorship, work, and ideas. We deem this diversity as abundance, a surplus we can start with. With this in mind, we dived deep into our past processes and reflected on our experience over the last twenty years.
In line with our paramount belief in friendship, we extended early invitations to our close allies. In time, they formed the Artistic Team of documenta fifteen. Some of them, like Gertrude Flentge, we have known as long as we have existed (even before ruangrupa was called ruangrupa) through school, residencies, network building, and artistic and curatorial projects. Through her vision, values, and compassion, Gertrude has played a vital role in the formation and relations between various initiatives in areas formerly known as the Global South. ruangrupa has worked previously with Gertrude on the programs RAIN and ArtsCollaboratory, and thus our collaboration with her for documenta fifteen came naturally.
Others, like Frederikke Hansen and Lara Khaldi, we have collaborated with on various occasions in different contexts. We have known Fred, one half of the curatorial collective Kuratorisk Aktion, since the early 2000s through various exchanges between South and North, an uncommon connection in the contemporary visual art world that we successfully sustained throughout the years. On the other hand, Lara is a more recent collaborator, who came through our door in 2015 when she was visiting Jakarta with other young curators from the De Appel Curatorial Programme. Because Lara is based in Jerusalem, collaboration up until now was largely impossible, however while her previous works were far away geographically, they were close to ruangrupa in sensibility.
One of our ways of working is to spend time together with people and engage in continuous conversations, listening to and developing an intimacy with people and their particular context. The fact that only one member of ruangrupa had experienced a previous documenta exhibition and Kassel as a city rendered us in need of connection points. It was crucial for us to learn from past experiences by collaborating with our newfound Kassel-based friends. Ayşe Güleç, through her involvement in previous editions of documenta and her long commitment to activism work in Kassel communities, is a perfect fit. We saw Andrea Linnenkohl, with her long experience working with several documenta related institutions as well as past documenta exhibitions, as a necessary bridge between us and institutions within the city of Kassel and beyond. The involvement of these people as our Artistic Team makes it possible for us to engage, imagine, work hard, hang out, and enjoy the journey of documenta fifteen.