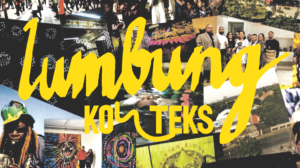 documenta fifteen's public program, titled Meydan, continues after lumbung calling with the new online conversation series lumbung konteks. Each session invites two documenta fifteen lumbung members to introduce, expand, and reflect on each other's practice and their wider ecosystems. Through sharing stories, songs, and tools for living and working in community, the lumbung members discuss the differences and affinities between their contexts.
lumbung konteks addresses the importance of the localities within which we all work, the conditions that inform and ground our practices, and the ways we can learn from each other's models of education, ecology, and economy. In the first episode, lumbung members Jatiwangi art Factory and The Question of Funding will discuss their work and its relationship to land in conversation with writer Rayya Badran. By sharing songs and sounds where rhythm comes from the very ground up, the two lumbung members will reflect on community work and what gathering together against dispossession feels and sounds like.
lumbung members
The fourteen lumbung members of documenta fifteen are collectives and organizations invited by ruangrupa and the Artistic Team to join them in developing a long-term process of sharing resources and cultivating friendship. As part of this process, the lumbung members have been meeting online to discuss and share ideas on how to sustain a network that can support the wellbeing of their local practices and wider community, not only during but hopefully well beyond the duration of documenta fifteen.
The lumbung members include: Britto Arts Trust, FAFSWAG, Fondation Festival Sur Le Niger, Gudskul, INLAND, INSTAR (Instituto de Artivismo Hannah Arendt), Jatiwangi art Factory, Más Arte Más Acción, OFF-Biennale Budapest, Project Art Works, The Question of Funding, Trampoline House, Wajukuu Art Project , and ZK/U – Center for Arts and Urbanistics.
More information on the first episode here.