Trampoline House was formed in 2010 by a group of artists, curators, refugee rights advocates, and asylum seekers as an antidote to Denmark's asylum, refugee, and immigration policies.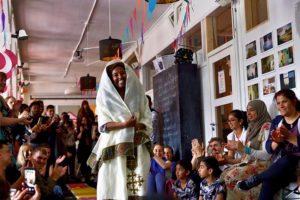 For more than ten years, it was a space where people who have escaped war, poverty, or human rights abuse could find ways to participate in their new host country and feel a sense of belonging again. The House offered legal counseling, language classes, job counseling, programs for women and children, workshops, debate events, art exhibitions, and weekly House meetings, where members and staff shared news and discussed urgent issues related to the House and refugee conditions. Due to lack of funding, the House had to close at the end of 2020.
In January 2022, Trampoline House re-opened in a smaller version under the name Weekend Trampoline House. The volunteer-run house is located in the Apostle Church's parish house in Copenhagen's Vesterbro neighborhood. The re-opening as Weekend Trampoline House creates the possibility to continue with their work for a more humane refugee policy, to resume their most popular activities and to create a model for a new, self-sustainable Trampoline House. It also produces an anthology documenting the history, methods, programming, and knowledge production of the first Trampoline House, the model for the future Trampoline House, and recommendations for a new global refugee policy based on solidarity and inclusion.
Trampoline House's contribution to documenta fifteen, Castle in Kassel, hints at the physical and metaphorical representation of territorial power and the exercise of ownership. Physically, the "castle" is a territory marked by a circle of chalk on the floor. Inside the circle, there is a public program of performances, debates, and screening of artworks that puts into perspective the Danish asylum system and attitudes towards refugees and migrants. The participants of a theater workshop with asylum-seekers, rejected asylum-seekers, and refugee youth write and perform sketches about life in the Danish asylum system. A creative writing workshop facilitated by Jean Claude Mangomba examines the criminalization of asylum seekers and a retracing of the rights lost in an unjust and discriminatory system.
Castle in Kassel is not merely site-specific. With its walls easily erased, the castle presents its own antidote to a discriminatory system, tied together through live streaming and documentation to convey Trampoline House's vital role.
Located in the underpass at Platz der Deutschen Einheit, The Walls Have Ears is a hidden sound installation by Sudanese Artist Khalid Albaih from Trampoline House that consists of hidden speakers placed in random locations along the tunnel telling stories of asylum seekers in Denmark.
Invited participants
Carlota Mir
Dady de Maximo Mwicira-Mitali
Fedaa Sultan (from Oct. 2020–Dec. 2021)
Helene Grøn
Jean Claude Mangomba
Joachim Hamou
Khalid Albaih
Morten Goll
Muhannad Al Ulaby
Sara Alberani
Shakira Kasigwa Mukamusoni
Tone Olaf Nielsen
visAvis
Yong Sun Gullach (from Oct. 2020–Dec. 2021)