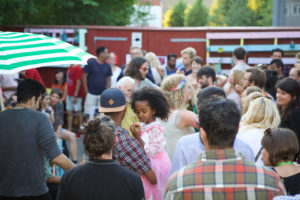 At the end of 2020, Trampoline House (Copenhagen, Denmark), a documenta fifteen lumbung member since June 2020, had to permanently close. After ten years of operation, and despite the solidarity and support of many friends, private donors, foundations and companies, Trampoline House was unable to secure a sustainable funding structure for its community space for refugees, asylum seekers and other citizens in Copenhagen. The coronavirus crisis not only directly affected the community; it also intesified the economic pressure on the organization, and several funding applications to help finance two new socioeconomic programs were recently rejected.
The closing of Trampoline House leaves a vacuum in the lives of hundreds of refugees, asylum seekers, and disadvantaged ethnic minority citizens. But even though Trampoline House had to close its doors, the organization and its community live on in the ideas, methods, knowledge, and engagement they cultivated. A working group currently continues planning and conducting projects on a temporary basis with the help of their ecosystems, while Trampoline House's website and social media platforms (Twitter, Instagram, Facebook) form an important archive of the house's history, mission, programming, and methodology.
Trampoline House remains part of the lumbung network initiated by ruangrupa for documenta fifteen. By sharing values and resources, the lumbung network provides a platform to communicate the history, knowledges, and methods of the house, to create a temporary solution for Trampoline House's users, to create awareness of discriminatory migration policies, and develop a plan for a new, more sustainable Trampoline House.
"The loss of the physical space of Trampoline House compels our community to rethink our strategies. While we know that the house was crucial to sustaining the community, we acknowledge that the waning interest in refugees and migrants on the part of private and public foundations led to our closure, despite our growing success in developing an independent income. We are grateful for being able to continue in the lumbung community of documenta fifteen, and we plan to use the invitation to analyze and rethink the idea of a sustainable Trampoline House. Though now homeless, it is exciting to be able to reboot. Although we have lost our physical home, we have a 10-year history of collected knowledge and the methods and legacy developed over this time as the foundation for a new Trampoline House," says Trampoline House.