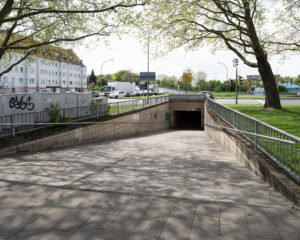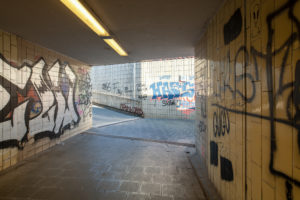 After the fall of the Berlin Wall, Kassel became the geographical center of the Federal Republic of Germany, and so it is only logical that the city should have a Square of German Unity (Platz der Deutschen Einheit). It is, however, not its most beautiful public square but rather an enormous, busy traffic circle—a relic of Kassel's past as a "car-friendly city."
For documenta fifteen, the activists from Denmark's Trampoline House are using the pedestrian underpass on the south side of the square for the sound installation The Walls Have Ears by Sudanese Artist Khalid Albaih. The installation consists of hidden speakers placed in random locations along the tunnel, telling stories of asylum seekers in Denmark.
Directions
Platz der Deutschen Einheit, 34125 Kassel
ˇ
Accessibility
Access and parking:
For drivers with disabilities there are parking spaces on the opposite side of the Platz der Deutschen Einheit at the P&R Platz Leistersche Wiese, which can be accessed via Dresdner Str. / B83. There are parking spaces from which you can reach Platz der Deutschen Einheit (barrier-free) via two crosswalks with lower curbs.
Accessibility of the underpass:
The work in the underpass is partially wheelchair accessible by means of three ramps; the incline of about 12% must be taken into account. On-site assistance is provided. Please feel free to contact our supervisory staff.
Bathrooms:
No bathrooms are available.
lumbung members & artists
Lumbung Program on site