Fehras Publishing Practices is an artist collective founded in Berlin in 2015 by Sami Rustom, Omar Nicolas, and Kenan Darwich. It researches the history and presence of publishing and its entanglement in the socio-political and cultural sphere in the Eastern Mediterranean, North Africa, and the Arab diaspora.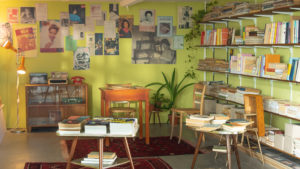 The collective's investigations take place at public libraries, book markets, and in private and institutional collections. They examine publishers and university catalogs as well as newspaper, radio, and television archives. Personal stories of publishers, memoirs, letters, and photographs are also part of this research.
Fehras initiates installations, films, publications and lectures aiming to extend the notion of publishing, such as Borrowed Faces (2019–ongoing), which addresses cultural practices during the Cold War. Queering the usual ways these archival narratives are shared, Borrowed Faces tells the story of three fictional characters—Afaf Samra, Hala Haddad, and Huda Al-Wadi—who become friends. The first Borrowed Faces, published in 2019, problematized the American Franklin Book Programs and the Soviet book market. The second edition, commissioned by documenta fifteen, focuses on the Afro-Asian Solidarity Movement and their publishing practices. It also observes the counter-project, the American CIA-funded Congress for Cultural Freedom, and its intervention in cultural production. The narrative woven among Beirut, Cairo, Bandung, Rome, Paris, New York, and Moscow is guided by a feminist discussion around the role of intellectual women during the 1960s. They chose the photo-novel—a classic format of this period—to publish it. These photo-novels also function as playful guides to trigger publics in a study room where archives are researched and digitized.
Fehras have recently exhibited at The Mosaic Rooms, London (2021); Haus der Statistik, Berlin (2021); Ural Industrial Biennial (2021); Crac Occitanie, Sète (2020); MMAG Foundation, Amman (2020); Neuer Berliner Kunstverein, Berlin (2019); Sharjah Art Foundation (2018); EMST, Athens (2018); District Berlin (2017); Haus der Kulturen der Welt, Berlin (2017); SAVVY Contemporary, Berlin (2017); Sharjah Biennial (2017); Kunsthal Aarhus (2016). The three Fehras collective members have been artists-in-residence at Delfina Foundation, London; Ashkal Alwan, Beirut; and Villa Romana, Florence. They were awarded a Berlin Artistic Research Grant for 2020/21.
Invited participants
Alex Viteri Arturo
Catalina Fernandez
Cécile Perrot
Charline Tsidie Tezangue
Cornelia Herfurtner
Ed Hichens
Erdem Şentürk
Eren Selin Akosman-Yildiz
Erwan Dambrine
Eyad Houssami
Fadwa Merkhan
Hagen Verlerger
Hana Copic
Heidi Erickson
Julian Brimmers
Lan Nguyen
Marei Loellmann
Martyna Marić-Barhanović
Merve Celikyurt
Nancy Nasr Al-Deen
Naom Gorbat
Nazila Karimy
Peimaneh Yaghoobifarah
Rasha Qass Yousef
Rayya Badran
Sina Ahmadi
Tamir Shmeltzer Frenkel Lederberg
Teodora Tabacki
Wolfgang Schlegel
Yuyu Elmi
Zekeriya Kasaboglu