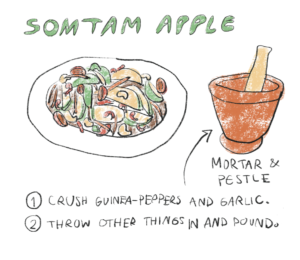 For the May Asphalt issue, another article by documenta fifteen participants in cooperation with the regional street magazine is published.

In the current issue, the lumbung artists Baan Noorg Collaborative Arts and Culture, Dan Perjovschi, Fehras Publishing Practices, Nhà Sàn Collective, The Nest Collective share ideas, recipes, and music for an afternoon in the sun that will take place in Kassel on June 22, 2022.
The May issue of Asphalt is now available on the streets of Kassel, Göttingen, and Hanover. Digital and mail order copies can be purchased by sending an e-mail to vertrieb@asphalt-magazin.de.