With piercing irony, Dan Perjovschi negotiates the absurdities and cynicisms of the "brave new world" in his daily drawings, sketched with a few strokes. The drawings comment on current events from around the world as well as general social phenomena or things that affect the artist personally. Perjovschi's figures and scenarios populate the walls, floors, corridors, and windows of various art institutions. He lives and works in Sibiu and Bucharest.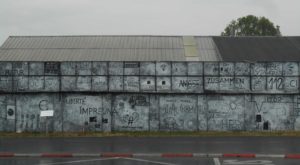 Perjovschi "publishes" the Horizontal Newspaper that addresses current events through observations, conversations, and hearsay, hand-drawn over a 30-meter stretch of wall in Sibiu. He updates from one edition to the next. Unlike today's media outlets, pushing news items directly to their consumers, Perjovschi examines the act of "updating"—which in his practice is analogue and obsolete.
For Kassel, Perjovschi is publishing a special edition of the Horizontal Newspaper, with reports on culture, politics, society, and sports, to be updated over the course of documenta fifteen. It can be perused on the pavement in the square in front of KAZimKuBa, Kassel's former main station. On the occasion of documenta fifteen, Perjovschi's presence in Sibiu connects the two newspapers, while forging a local network of social and cultural institutions called the Visual Art Platform (PAV).
Meanwhile, the columns on the Fridericianum's façade have been transformed into "columns" of a yet different magazine, devoted to the lumbung values. Inside the Fridericianum, Perjovschi shares his inquiries into branding, identity-formation, and sponsorship.
Previous exhibitions include Drawing the World, Ludwig Forum für Internationale Kunst, Aachen (2021); Black and White Cape Town Report, A4 Arts Foundation, Cape Town (2019); The Dakar Drawing, RAW Material Company, Dakar (2016); Jakarta Biennial (2015); Unframed, Kiasma, Helsinki (2013); Hong Kong First, ParaSite, Hong Kong (2011); What Happen to US?, Museum of Modern Art, New York (2007); I am not Exotic I am Exhausted, Kunsthalle Basel (2007), The Room Drawing, Tate Modern, London (2006); Istanbul Biennial (2005); Naked Drawings, Museum Ludwig, Cologne (2005); and Perjovschi, Vanabbe Museum Eindhoven (2005), among many others.
Since 2010, Perjovschi draws the public art project The Horizontal Newspaper in his hometown Sibiu. He received the Rosa Schapire Art Prize in 2016, the European Cultural Foundation/Princess Margriet Award in 2012 (with Lia Perjovschi), and the George Maciunas Prize in 2004.