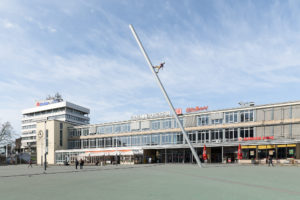 When the Wilhelmshöhe train station opened in 1991, it overtook Kassel's central station in importance. The central station is now largely used as an exhibition venue and cultural center. On its large plaza, named after publisher Rainer Dierichs, who died in 2007, the city erected the sculpture Man Walking to the Sky, which Jonathan Borofsky showed at documenta 9 in 1992.
With his work on Rainer-Dierichs-Platz, Dan Perjovschi alludes to his work Horizontal
Newspaper, on which he has been working since 2010 in his hometown of Sibiu, Romania. Belonging, community, and the future are themes that Perjovschi addresses time and again. Horizontal Newspaper is continually updated here during documenta fifteen.

Directions
Rainer-Dierichs-Platz, 34117 Kassel
ˇ
Accessibility
Access:
Level access to the station forecourt.
Bathrooms:
There are barrier-free toilets in the public bathrooms of the main station.
Parking:
There are three barrier-free parking in front of the Kulturbahnhof.
You can find a detailed map of the city of Kassel here (in German language). Selection in the topic layer "Themen-Layer": Verkehr & Mobilität + Behindertenparkplätze
lumbung members & artists
Lumbung Program on site