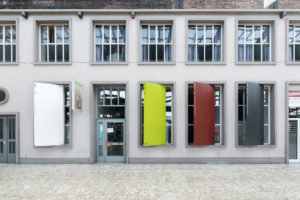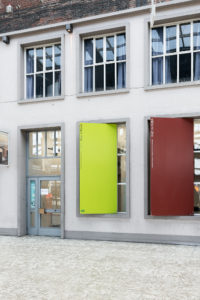 KAZimKuBa (Kasseler Architekturzentrum im Kulturbahnhof) was founded by seven members of the Association of German Architects in 1998 in the former rooms of the Bahnhofsmission. The goal of the association is to draw attention to urban design and architecture.

Jimmie Durham the US-born artist, poet, and writer, lived between Berlin, Germany and Naples, Italy. He became internationally known in the 1980s for objects and sculptures made of materials such as stone, animal skulls and bones, and wood carvings, and was a strong advocate of Indigenous rights.
During the 100 days, a collective of artists and cultural critics connected to Jimmie Durham, who died in November 2021, is exhibiting under the name Jimmie Durham & Stick in the Forest by the Side of the Road. The collective consists of Bev Koski, Elisa Strinna, Hamza Badran, Iain Chambers, Joen Vedel, Jone Kvie, Maria Thereza Alves, and Wilma Lukatsch. They are seeking to respond critically to intertwined histories and layered memories. During documenta fifteen the members of the collective propose art works, video screenings, talks, workshops, TV programs, and publications, including narratives drawn from recipes and ingredients of the Kassel region.
In addition to this, the collective has planted a special apple tree in the park in front of Grimmwelt Kassel as a homage to Jimmie Durham. The tree is a Korbinian apple tree of the same sort that Durham planted for dOCUMENTA (13), ten years ago, and which later got vandalized.
Directions
Rainer-Dierichs-Platz 1, 34117 Kassel
ˇ
Accessibility
Access:
KAZimKuBa is on the grounds of the Kulturbahnhof. It is accessible at ground level, as are the exhibition rooms in KAZ.
Bathrooms:
There are barrier-free toilets in the public bathrooms of the train station.
Parking:
There are three barrier-free parking spaces in front of the Kulturbahnhof.
You can find a detailed map of the city of Kassel here (in German language). Selection in the topic layer "Themen-Layer": Verkehr & Mobilität + Behindertenparkplätze
lumbung members & artists
Lumbung Program on site