When eating jackfruit, people often throw away its center, not knowing that it can also be enjoyed as its own special delicacy. The name BOLOHO is a Cantonese romanization of the Chinese word for "jackfruit core," and it is from the crevices of an old residential neighborhood in the core of the Guangzhou megalopolis where BOLOHO began in 2019.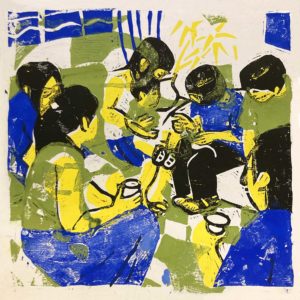 Having multiple encounters with both contemporary workplace realities and traditional family culture, female creative practitioners BUBU and CAT initiated the space as a result of their continuous reflections upon individual relations to broader family structures and social roles. BOLOHO aims therefore to gradually connect the similarly aspiring individuals, organizations, and communities around them in mutual practice, action, and support.
BOLOHO members choose a "business" model of "friendship" – as in equality, self-discipline, and mutual-aid – over "hierarchy" – as in power, opportunism, and punishment – at the same time regrouping the "idle" skills and time of a community of collaborators to face the opportunities and challenges of mainstream economic models together.
BOLOHO is also like a "living room" for working and playing together. BOLOHO works with the Reading Room, a small publication project initiated by Xiaotian Li, Di Liu, and Siyan Xie, which aims to introduce books, archives, and ideas to a wider community of friends. BOLOHO's elder members care for all the "children" with home-cooked meals, accompanying each of BOLOHO's mothers, fathers, friends, and smallest ones as we all grow up.
For documenta fifteen, the collective has turned a factory cafeteria into a Cantonese-style café. The space is divided into four rooms, each featuring an episode of the self-produced sitcom BOLOHOPE. The members, part of a generation raised on maudlin sitcoms with sentimental narratives bound by traditional family values, chose to shoot BOLOHOPE as a contemporary adaptation of this ideology-laden genre. On the screens separating the rooms, drawings and paintings by the group earnestly and humorously express their aspirations and anxieties. The Dream of Bolohope (2022), for instance, depicts a microcosm operating inside a jackfruit. Radiating from the pit, here labeled "d15," are streaks of light bearing words such as "nice" and "negative," which describe a certain collective euphoria mingled with ambivalence towards participation in a canonical exhibition. But surely any problem can be solved with a good meal. Working with other participating collectives, BOLOHO has designed a menu including recipes from places as far away as Cambodia, India, and Chengdu in China.
Invited participants
BUBU刘嘉雯
CAT 黄婉珊
Feng Weijing 冯伟敬
Li Zhiyong 李致恿
Zhu Jianlin 朱建林
Reading Room
Li Xiaotian 李筱天
Liu Di 刘菂
Xie Siyan 谢思堰
Facilitator
He Cong 贺聪
Contributors
Chen Yaxiu 陈亚秀
Christoph Plutte 柯冥
Elaine W. Ho 何颖雅
Feng Er 冯洱
Huangbian Station Contemporary Art Research Center 黄边站
He Xiting 何惜婷
He Yanfei 贺燕霏
Josh 小乔
Kwan Florence 关心芙
Li Cong 李聪
Li Mushi 李木时
Li Yu 李与
Lin Ruizhen 林瑞珍
Liu Yuerong 刘月容
Mambo Wong 王沛然
Mao Rujia 毛茹佳
Rachael Chan 陈可沂
Shao Yuezhu 邵月珠
Tan Jing 谭婧
Tang Shuhua 唐淑华
Wu Kairui 吴凯睿
Wu Wenli 吴文礼
Zeng Jiahui 曾嘉慧
Zhang Jiayi 禾
ZHENGKE 郑可
Zhu Jialiang 朱嘉良