Safdar Ahmed is a Sydney-based artist, writer, and educator. He works across a range of mediums, including drawing, graphic narratives, painting, zine-making, musical performance, and installation.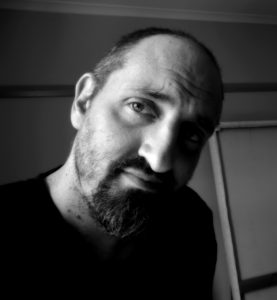 Ahmed's art practice focuses on issues of representation and belonging, subtly interweaving personal history, cultural exegesis, anti-racist polemic, and (Chishti) Sufi tradition.
At documenta fifteen, with musician Kazem Kazemi, cinematographer Alia Ardon, artists Can Yalcinkaya and Kian Dayani, as well as members of Refugee Art Project, Ahmed presents Border Farce-Sovereign Murders-Alien Citizen (2022). It is a three-part work—a two-channel video installation, a vinyl record, and zine— interrogating citizenship, the politics of representation, and the weaponization of borders. The video installation takes documentary footage of Kazemi's, who fled from Iran, traumatic experience at the Manus detention camp which resulted in his evacuation to Brisbane, where due to the Australian government, he remains stateless.
This footage is combined with discordant audio-visuality inspired by Hazeen, the death metal band formed by Ahmed and Kazemi. Hazeen recuperates black metal and its theatrical corpse make-up and rawness—a genre synonymous with European white supremacy—and channels it into an antagonistic and anguished anti-racist exhortation. Accompanying this is a series of short films made by women associated with Refugee Art Project, screened in partnership with Cinema Caravan and Takashi Kuribayashi. Ahmed is a founding member of the not-for-profit community art organization Refugee Art Project, for which he has conducted art workshops with people from an asylum seeker or refugee background in the Villawood Immigration Detention Centre and in the Western Sydney community since 2011.
Before his participation in documenta fifteen, Ahmed created the Walkley Award–winning documentary web-comic Villawood: Notes from an immigration detention centre (2015). He subsequently expanded and adapted the comic into a graphic novel, Still Alive, which was published in 2021 by Twelve Panels Press. His dissertation Reform and Modernity in Islam was published in 2013 by IB Tauris. He is a member of eleven, a collective of contemporary Muslim Australian artists, curators, and writers.
Invited participants
Alia Ardon
Can Yalçınkaya
Safdar Ahmed
Kian Dayani
Susie Hurley
Michal Imielski
Murtaza Ali Jafari
Kazem Kazemi
Zeina Laali
Zeinab Mir
MN
Mona Moradveisi
Susie Nelson
Saeed
Miream Salameh
Tabz A