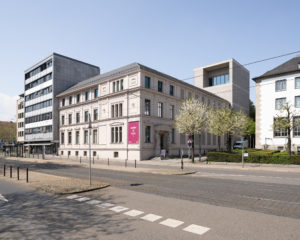 After a 2015 reopening, the Stadtmuseum is now a modern museum in the historical building of the Kulturhaus on Ständeplatz. The focus of its permanent exhibition is the evolution of the city from the eighteenth century to the twentieth. The early history of the first settlements and the flooding catastrophes on the Fulda River are presented on a large table display. The history of migration in Kassel is mentioned only in passing.
documenta fifteen is showing artists who consider issues of representation and practice. For example, Project Art Works of Hastings, UK, is based on the recognition of neurological diversity and works with artists and makers with complex support needs. They are creating works of art and holding workshops in the Stadtmuseum, and exhibiting in the Fridericianum. The FAFSWAG collective, from Aotearoa, was founded in 2013 with the idea of questioning the lack of representation of queer, Indigenous people. It is presenting an archive of their own works. Nhà Sàn Collective, from Hanoi, Vietnam works on a playground installation that set sail from the Vietnamese notion of bến (harbor), transporting both architectural materials and their lived experience. Safdar Ahmed and collaborators present a video installation, zine, and vinyl record based on the lived experiences of refugees.
Directions
Ständeplatz 16, 34117 Kassel
ˇ
Accessibility
Access:
The main entrance is accessible without steps via a ramp; the entrance door opens automatically. All exhibition areas and passageways are wheelchair accessible. There is an elevator from the main entrance into the foyer (170 x 110 cm), and one for the different levels of the exhibition area (150 x 260 cm).
Bathrooms:
There is a barrier-free bathroom in the basement.
Other:
Museum stools and a wheelchair can be borrowed.
Parking:
You can find a detailed map of the city of Kassel here (in German language). Selection in the topic layer "Themen-Layer": Verkehr & Mobilität + Behindertenparkplätze
lumbung members & artists
Lumbung Program on site