Cinema Caravan is a group of primates in the Good Vibes Hominidae family. Their main habitat is the Zushi area in Japan, but its sphere of activity is not limited to this area. Each individual has its own unique abilities and ecosystem, but the group is able to adapt to any environment. They are fueled by "travel," and once they are in harmony, they create a variety of objects, sounds, and spaces, refining and injecting "love" in its purest form.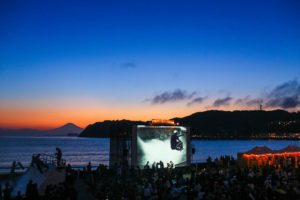 In Cinema Caravan's own words: "Environmental crises and conflicts of interest never seem to cease anywhere. Rather than rebelling against them, Cinema Caravan continues our journey, so that we do not have to rely on the framework of society; we need to confirm who we are by ourselves, and gain the strength to be independent.
Caravan is a diverse group of friends, who have their own unique power to live, to strengthen each other through journeys and to experience various kinds of richness surrounding them. We all work together, as an open-air cinema, facing all kinds of nature. By creating places and expressing ourselves in the journey, we build a relationship of trust, and resonate with the energy of people and culture there. In the world where unpredictable future awaits us, with flexibility and agility, we will continue our journey to share the sense of consciousness that improves our society with everyone."
Takashi Kuribayashi has been creating installation works that exhibit his keen awareness of spatiality since his time in Germany in the 1990s. In particular, examining boundaries as a theme, he has presented large-scale installations both in Japan and abroad. Responding to the Great East Japan Earthquakes and Tsunami and its subsequent nuclear accident in Fukushima that occurred on March 11, 2011, he began an inquiry into the boundaries in Fukushima.
In the Yatai Trip Project and the Trip Museum, Kuribayashi visits various borders and boundaries together with photographers and musicians to reveal the problems and events that are actually taking place there, through their presence and contact with the people and environment. In the newly launched Tanker Project, Kuribayashi is re-examining the nature of boundaries, the concept of ownership, and the future of the Earth, by creating a unique space on a tanker ship, a symbol of energy that sails freely around the globe, to envision possible forms of new ecosystems and environments.
For documenta fifteen, the artists are driven by the motto "make friends not art." They show a series of works grouped around an open-air cinema with a bar. Building on previous works, such as Kuribayashi's Genki-Ro installation (2021), there is a functioning herbal steam sauna in the shape of the nuclear reactor in Fukushima, and the ongoing Yatai Trip Project (since 2009), which uses the mobile food stall as a device for creating spontaneous communal sites.
Invited participants
Akira Okura
Danuraga Sastraining
Eikou Haraguchi
Eisuke Ogawa
Gen Nagashima
Kazuaki Komiya
Keita Yamada
Masaya Kobayashi
Michinori Maru
Mizuki Nishimura
Naoito Ito
Rai Shizuno
Satoru Segi
Solar Darmika
Takashi Kuribayashi
Tatsuya Sano