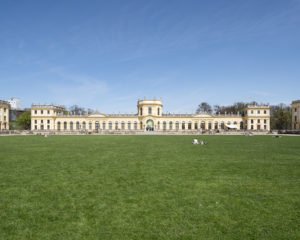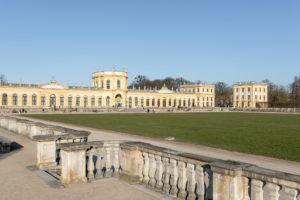 The large Karlswiese in front of the Orangerie is the heart of the 125-hectare Karlsaue state park. Named after its patron Landgrave Karl of Hessen-Kassel, the Baroque park has been an important exhibition venue for documenta over the years. It was also the site of the 1955 Federal Garden Show, during which Arnold Bode conceived his first documenta.
This year, Cinema Caravan and Takashi Kuribayashi are also present in the park with mosquito tents, an herbal sauna, and an open-air cinema. The collective uses the caravan as a model of a community in which individuals retain their autonomy, yet grow together with others to form a community. The Nest Collective from Nairobi, Kenya, draw attention to the transport of garbage, e-waste and textiles to the countries of the Global South, which contribute to the destruction of the environment and the economy there, with Return to Sender, a walk-in installation made of garbage. In addition, Cao Minghao & Chen Jianjun from Chengdu in China, who work on the current socio-ecological realities and the human-nature relationship, erect a nomadic yak tent here.
Directions
Karlswiese, An der Karlsaue, 34121 Kassel
ˇ
Accessibility
Access:
The grounds of the park consist of coarse to fine gravel and turf.
Bathrooms:
No bathrooms are available.
Parking:
Ground level entrances to this part of the Karlsaue are mainly located east of the park, close to the street "Am Auedamm". We recommend parking on this street (parking lot Auedamm) and using one of the park entrances.
You can find a detailed map of the city of Kassel here (in German language). Selection in the topic layer "Themen-Layer": Verkehr & Mobilität + Behindertenparkplätze
lumbung members & artists
Lumbung Program on site