Jumana Emil Abboud engages with personal and collective stories and mythologies, weaving folklore and contemporary tales in an integrated relationship that navigates themes of memory and dispossession.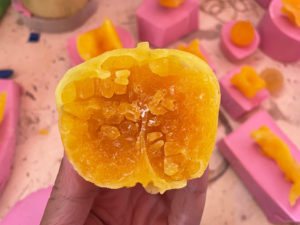 Abboud's works explore our intimate relationship with nature and landscapes, as collectively inhabited by humans and non-humans. Her practice in video, performance, drawings, and paintings assesses questions of longing, belonging, and separation—not through nostalgic iconography, but through a rediscovery and reimagining of the landscape. Her practice focuses on an exploration of places and sites in the topography of Palestine, where the struggle for continuity necessitates a constant process of regeneration and ingenuity.
As an extension of her ongoing practice, Abboud's most recent work for documenta fifteen further delves into water sites as spirited places, now focusing specifically on seven endangered natural water sources in the Abu al-Adham hillside in Ein Qiniya, outside of Ramallah. Working from the understanding that stories are co-created, Abboud revisits water sources through workshops and collective writing experiments. Inspired by the water springs, the stories continue to be co-authored as part of an ongoing collaborative process—a process that culminates in a storytelling performance with contributions from Issa Freij, Anna Sherbany, Yasmine Haj, Mounya El Bakay, Lydia Antoniou, and Sourabh Phadke.
Abboud further presents drawings, a video work and talismanic objects inspired by two Palestinian folk tales: the story of Half-a-Halfling (Nos Nsais), and the tale of The Orphans' Cow (similar to the Grimm Brothers' Brother and Sister). Abboud's revisiting of folktales through collaborative processes investigates the ways in which oral knowledge can inform our contemporary reality and estrangement from the natural world.
During the past two decades, Abboud's work has been presented in numerous solo and group exhibitions, including Common Grounds: Story / Heritage, Casco Art Institute, Utrecht (2020); The Jerusalem Show (2018); Sharjah Biennale (2017); BALTIC Centre for Contemporary Art, Gateshead (2016); Venice Biennial (2015, 2009); and Istanbul Biennale (2009), among many others. She has participated in art residencies, including Sakiya – Art/Science/Agriculture, Ein Qiniya; Delfina Foundation, London; Arts Initiative Tokyo; and Gästeatelier Krone, Aarau. Abboud lives and works in Jerusalem and London and is currently pursuing a practice-led PhD at the Slade School of Fine Art, University College London.
Invited participants
Tareq Abboushi
Ali Shneina (Abu Jum'a)
Lydia Antoniou
Ishraq Awashra
Ayoub Yacoub
Canaan Mazar'a (Abu Ibrahim)
Sa'ad Dagher
Mounya Elbakay
Issa Freij
Yasmine Haj
Amal Hajjaj
Jumana Emil Abboud
Amany Kattom
Salma Kharouba
Lama Khatib
Danna Masad
Zeina Nedal
Sourabh Phadke
Sahar Qawasmi
Rahaf 'Alqem
Yazan Salem
Raghad Saqfalhait
Anna Sherbany
Nida Sinnokrot
Suha 'Atta 'Alqam
Tabaraq 'Alqem
Layla Taher
Thurayya Shneina (Um Jum'a)
Yusef Yacoub (Abu Omar)
Haifa Zalatimo