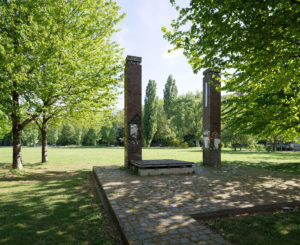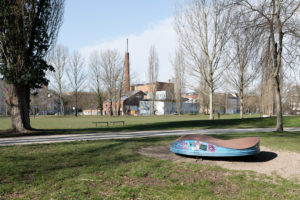 Kassel is almost more park than city. The greenery in the Nordstadt district of Kassel lies on
the Ahne, a tributary of the Fulda, in the immediate vicinity of the university campus and the Kulturzentrum Schlachthof. The Nordstadtpark is particularly famous for music and a free open-air music festival.
documenta fifteen is offering a summer stage: Sourabh Phadke designed a podium here for Jumana Emil Abboud that is made of clay and other sustainable materials and extends over the Ahne. Water and the right to water in the Palestinian territories is a theme of Emil Abboud's work. The stage is regularly used for performances and an open-air cinema during documenta fifteen.
Directions
Nordstadtpark, 34127 Kassel
ˇ
Accessibility
Access:
Partially barrier-free. The small Nordstadtpark consists mainly of lawn. Around the park there is a concrete road and a walkway at ground level.
Bathrooms:
No bathrooms are available.
Parking:
You can find a detailed map of the city of Kassel here (in German language). Selection in the topic layer "Themen-Layer": Verkehr & Mobilität + Behindertenparkplätze
lumbung members & artists
Lumbung Program on site