ikkibawiKrrr is a visual research band founded in 2021 that explores multifaceted links between plants and humanity, civilization and natural phenomena, and colonialism and ecology. Its current members are KO Gyeol, KIM Jungwon, and CHO Jieun.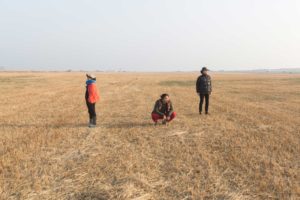 In Korean, ikkibawi means "moss-rock" and krrr is an onomatopoeic word. Mosses live in the thin boundary between air and soil, adapt to their surroundings despite their tiny bodies, and expand their world along other worlds. The fact that the method of survival itself forms a movement, and that this movement sometimes thickens the layer of boundaries, is key to the practice of ikkibawiKrrr. Incorporating the way of mosses in its approach, the collective hopes to circulate its practice beyond individual projects and extend the boundary layer between life and art. Currently ikkibawiKrrr is researching the tropics and seaweeds, while farming and collaborating with local growers.
The members of ikkibawiKrrr were previously part of the collective mixrice. Mainly engaging with different conditions of migration, mixrice focused on plants, community, and temporality in its later practice. These interests and discussions are carried on to ikkibawiKrrr.
ikkibawiKrrr's artistic contributions to documenta fifteen traverse topics connected to war, industry, the environment, and Korea's transnational twentieth-century history. Tropical Story (2022) finds the artists visiting war remnants at locations that were formerly occupied by the Japanese empire. Accompanied by a display of photographs, the two-channel video's images of overgrown airstrips, abandoned cave fortifications, and burial grounds hint at how war is metabolized by nature.
Returning to Jeju, the single-channel video Seaweed Story (2022) focuses on the haenyeo, or "sea women" divers who harvest marine products—including the edible seaweed Ecklonia cava, another source of explosive components, along with herbal remedies—from the surrounding waters. Part of a centuries-long tradition, the haenyeo were once so successful that they were the primary earners in their families, upending Confucian gender norms. Today there are only a few of them.
Major exhibitions by mixrice include Michikusa: Walks with the Unknown, Art Tower Mito (2020); Cosmopolis #1: Collective Intelligence, Centre Pompidou, Paris (2017); Korea Artist Prize 2016, Museum of Modern and Contemporary Art, Seoul; and Sharjah Biennial 12 (2015).
Invited participants
Cho Jieun
Jungwon Kim
Gyeol Ko