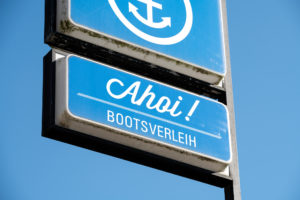 In 1950, Theo Kissler founded a boathouse on the banks of the Fulda River. After many changes, since 2015, the Bootsverleih Ahoi has been a meeting place for anyone wanting a river excursion.
For documenta fifteen, OFF-Biennale Budapest transforms part of the grounds into an imaginary playground where people can construct new models for society, together with a collaboration with Kassel's Unterneustädter Schule, which takes over the bridge afterwards. Moreover, there is a multipart project by the artist Chang En-Man. Through the "migration" journey of Giant African Snails, the artist unveils the correlation between the history of imperialism and the modernization of the indigenous peoples in Taiwan. Her work Floating System for Snails comprises a sailable boathouse with a waiting room, and the Project Invasion that invades different sites in Kassel.
At Bootsverleih Ahoi visitors can start the walk, which was conceived by the artists of MAP (Markus Ambach Projekte) on invitation of lumbung member ZK/U – Center for Art and Urbanistics. The urban trail leads to protagonists and initiatives of local knowledge in the east of Kassel. Their projects and interventions—for example the monument to Lucius Burckhardt or the allotment garden museum—can be found on this short walk along a trail marked in blue from the river Fulda to Bettenhausen. Here you can find the route.
Directions
Between Blücherstraße 20 and 22, 34123 Kassel
ˇ
Accessibility
Access:
For wheelchair users, this exhibition venue is partially accessible.
The main entrance has a slight incline, but is step-free. The outdoor area (lawn) can be accessed via a setup of floor protection mats, which affords a view of exhibits that are not accessible in the building and of the riverbank. A ramp provides entry to the old building (4% incline). Some places in the building are paved. The built bridge has several levels and is not barrier-free.
Bathrooms:
There are no barrier-free toilets.
Parking:
You can find a detailed map of the city of Kassel here (in German language). Selection in the topic layer: Verkehr & Mobilität + Behindertenparkplätze
lumbung members & artists
Lumbung Program on site