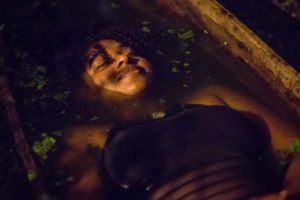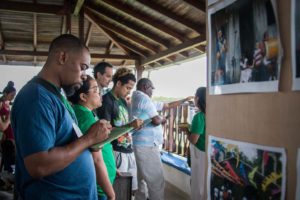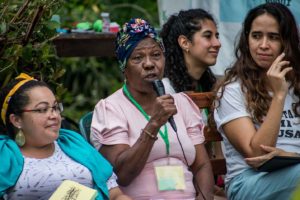 lumbung Nuquí was a workshop organized by lumbung member Más Arte Más Acción (MAMA) from November 29 to December 4, 2021 in Nuquí-Chocó. The gathering in Colombia allowed the projects, that are part of MAMA, to meet and share experiences for the first time.
The workshop was attended by cultural and artistic organizations and groups from the biogeographic Chocó (Quibdó, Bahía Solano, Buenaventura, and Nuquí), managers and artists of the music and art scene of Bogotá and Cali, representatives of the Organization of Indigenous Peoples of the Colombian Amazon (OPIAC), and members of collectives from Indonesia and Mexico that are part of the Arts Collaboratory network as well as members of ruangrupa.
lumbung Nuquí revolved around the activities of MAMA that have been built with different organizations and groups over recent years. Under the titles Postcards from the Future, Possible dialogues, Atrato Collaborations, Unpostponable, and Chocó as a School (title in progress) these projects will be present during documenta fifteen in Kassel.
Postcards from the Future is an exchange between collectives from Buenaventura and Nuquí that through documentary film reflect on the notion of "progress", mega-ports, and the future of these territories. During lumbung Nuquí, Mareia and Cráter Invertido initiated writing and drawing exercises that supported imaginative practices in thinking about the territory. Social and environmental leaders, activists, artists, and academics who have common concerns related to climate change and climate justice meet through MAMA's project called Possible dialogues. Guided by the question of what the Atrato River means as a subject of biocultural rights, the project Atrato Collaborations brings together members of MAMA together with cultural organizations from Quibdó and artists from Switzerland and Germany to discuss about extractivist and neocolonial relations. The participant Motete activated a reading of childrens' writings about the Atrato River. Unpostponable in turn is a series of artistic residencies that puts in the center the ways of living and being of the biodiverse territory of the Gulf of Tribugá. A publication called Chocó as a School (title in progress) will gather the ideas that have guided the MAMA program.
The initiative is possible thanks to the support of the Goethe Institut, Pro Helvetia South America, the Prince Clause Foundation, DAAD, and the Arts Collaboratory Network. Special thanks to the Mayor's Office of Nuquí and the Consejo Comunal Comunitario Los Riscales.