Keleketla! Library is a timeless, radical storytelling and narrative portal, an (arts) archive, cultural production, educational workshop, and performance space in Johannesburg and worldwide through collaborations, emergent platforms, and media.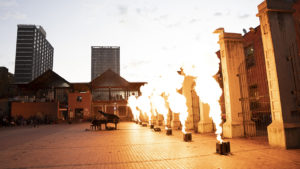 Their goal is to support and nurture autonomous and interdependent cultural production while holding governments accountable for just provisions of infrastructural support. Keleketla! Library was founded by Malose Malahlela and Rangoato Hlasane in Johannesburg in 2008.
For documenta fifteen, Keleketla! Library continues the series of events Skaftien (2011–ongoing). This edition highlights the problematics of depoliticization of cultural work by demanding the accountability for neglect of infrastructure. In this reprise, Skaftien becomes a socio-cultural advocacy program that brings together stakeholders in cultural work and governance to diagnose and pinpoint mutual solutions to civil problems within the following paradigms: public space and public cultures; architecture and immovable heritage; public transport, spatial (in)justice and migrations; people as resources; housing and right of law; infrastructure and governance.
The Skaftien model echoes the Stokvel, a trust or mutual community bank, traditionally run by women, for the upkeep and perpetuation of familial and communal ceremonies and developments. Stokvel, like Skaftien as articulated by Keleketla! Library, is a "a bridge between bureaucracy and cultural production." By making this link central to their contribution to documenta fifteen, Keleketla! Library gets to the core of multi-stakeholder accountability (and solidarities), and the criticality of community to ensure survival by asking: "What do we bring to this Skaftien?"
Invited participants
Malahlela Malose
Hlasane Rangoato