Event
Keleketla! Library presents: Skaftien #4: A Reprise of Fires
by Keleketla! Library
Location: Drill Hall Public Square: 14, 15, 16 Twist Street (entrance on Twist Street), Joubert Park, Johannesburg, South Africa
Livestream via SodaWorld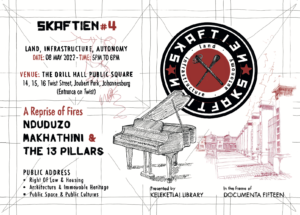 Skaftien #4: A Reprise of Fires is a symbolic ritual taking place on the grounds of the Drill Hall in Johannesburg in South Africa. lumbung artist Keleketla! Library collaborates with the initiative Skaftien to negotiate issues like the Rule of Law and the Right to housing, architecture and immovable heritage, as well as public spaces and cultures.
The Drill Hall has experienced tragic fires in 2001 and 2002. Nduduzo Makhathini accompanies the ritual on the piano, alongside the eruption of fires in front of 13 memorial pillars. This traumatic past, which reaches into the present, is taken up by the ritual. In doing so, it seeks to set in motion a symbolic healing process as a counterweight to the complex bureaucracy that inhibits cultural production, and in this way defend beauty against systemic, structural violence.
About Skaftien
As a sociocultural project Skaftien tackles urban planning, urbanism, and the built environment to reimagine cultural ecologies. It does this through a long-term engagement with the Drill Hall, a state infrastructure built in 1904 as a military barrack that also served as a courthouse during the Treason Trial against 156 anti-apartheid activists. Today the Drill Hall is a centre for culture, art, and heritage.
lumbung artist Keleketla! Library's fourth reprise of the serial Skaftien brings together different spheres of Johannesburg municipal and national stake-holders to advance the resolution of the problems that prevent the Drill Hall to be the epicentre of cultural work and experience for the people of Johannesburg and beyond. It should be shown that cultural workers not only have the capacity to operate autonomously within state infrastructures, but are indeed also able to instigate powerful partnerships between the public and the private sector themselves. These then can add mutual value for all sectors of society without perpetuating gentrifications of land and neighbourhoods.
Location and Livestream
Location: Drill Hall Public Square: 14, 15, 16 Twist Street (entrance on Twist Street), Joubert Park, Johannesburg, South Africa
Livestream via SodaWorld
Registration
Registration is required for online participation.
Language
The event will be held in English.
Directions
Drill Hall Public Square: 14, 15, 16 Twist Street (entrance on Twist Street), Joubert Park, Johannesburg, South Africa
Infos
Location: Drill Hall Public Square: 14, 15, 16 Twist Street (entrance on Twist Street), Joubert Park, Johannesburg, South Africa
Livestream via SodaWorld