The Black Archives is a historical archive with a unique collection of books, documents, and artifacts, which are the legacy of Black Dutch writers, scientists, and activists. It documents the history of Black emancipation movements and individuals in the Netherlands.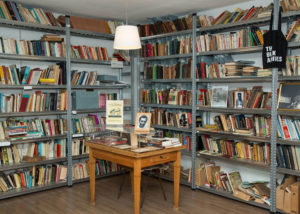 Currently, the archive consists of more than 10,000 historical books, documents, photographs, audiovisual material, and artifacts about the history of people of Surinamese or African descent in the Netherlands.
The collective aims to inspire conversations, activities, and literature from Black and other perspectives that are often overlooked elsewhere. The collections are intended as a starting point that can grow by donations and collaborations with others. In this way, Black literature, knowledge, and information is made accessible for study and research. Based on these collections, the collective members and larger ecosystem develop exhibitions, public programs, and other educational activities to share hidden and forgotten histories.
For documenta fifteen, The Black Archives demonstrate how they both collect and enact resistance. They are replicating a section of their book collection as well as parts of their exhibitions Facing Blackness (2022) and Black and Revolutionary: The Story of Hermine and Otto Huiswoud (2018). The latter reveals the hidden history of the Huiswouds' courageous fight against colonialism, racism, and economic inequality, which they uncovered in their own collection. Their installation serves as the basis for conversation, for sharing materials and for raising awareness around issues of decolonization, intersectionality, and anti-racism. Material can be copied, and donations are accepted. The Black Archives continue to build a community of activists with whom to reconstitute a collective memory and fight for human rights.
Invited participants
Brian Elstak
Dion Rosina
Iris Kensmil
Jaasir Linger
Jessica de Abreu
Mitchell Esajas
Raul Balai
Rossel Chaslie
Serana Angelista