Based in Philadelphia, USA, Black Quantum Futurism (BQF) is the collective practice of Camae Ayewa and Rasheedah Phillips. Their work sets forth new connections of time and space, thereby becoming liberated from the constraints of linear time. Their writing, films, and performances draw on sources such as alternative futurities, Afro-diasporan temporalities, quantum physics, housing futures, and speculative fiction as frameworks through which to reconnect to the past and create new futures.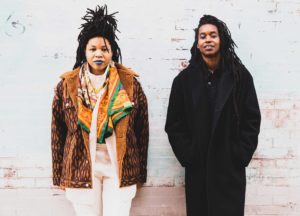 At documenta fifteen, BQF are represented by three projects. The Clepsydra Stage (2022) is an interactive installation on the banks of the river Fulda. An abstracted water clock, consisting of three entangled circles, serves as a hub for memories, visions, and stories. Two of the circular elements that make up the stage construction are set in motion by the water. Different experiences of space and time as well as identities meet; the personal always intersects with the universal.
More concretely, through the work, new spaces are opened for local marginalized communities for expression and exchange. Conceived as an interactive space, in the course of documenta fifteen The Clepsydra Stage is also activated by other participants. Responding to each visitor's movements, it gives voice to varying temporalities, spatialities, and identities. BQF uses it for its own concerts, as well as one by Camae Ayewa's jazz ensemble, Irreversible Entanglements.
The other two works also collect and make accessible the memories and experiences of audiences. Black Grandmother Clock (Oral Futures Booth) (2021) is installed in the Fünffensterstraße / Frankfurter Straße underpass and collects audio testimonies of Kassel visitors. A questionnaire encourages audiences to develop their own visions. Stories from the past that have long since disappeared from public memory can thereby be documented. Suggestions for additional contributions such as speeches, songs, or sounds from the city can be submitted to BQF. All of these collected audio elements are incorporated into an evolving soundscape, merging archival sounds, song snippets, and voices of the neighborhood that plays from sound sculptures called the Sonic Shades (2021). In these novel forms, BQF brings local memories together with nascent visions of the future, creating a unique archive.
BQF has created a number of community-based projects, performances, experimental music projects, installations, workshops, books, short films, and zines, including the award-winning Community Futures Lab and Community Futurisms project. BQF Collective is a 2021 Knight Arts + Tech Fellow; recipient of the 2021 Collide Residency Award, CERN; 2018 Velocity Fund Grantee; 2018 Solitude x ZKM Web Resident; and a 2015 artist-in-residence at West Philadelphia Neighborhood Time Exchange. BQF has presented, exhibited and performed at  SAVVY Contemporary, Berlin (2021); Manifesta 13, Marseille (2020); Squeaky Wheel Buffalo (2019); Le Gaite Lyrique, Paris (2018); Serpentine Gallery, London (2017); Philadelphia Museum of Art (2017); MOMA PS1, New York (2017); and Bergen Kunsthall (2017), and among others.