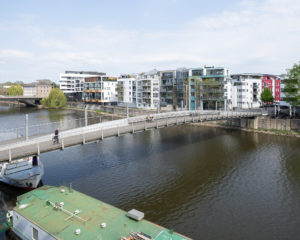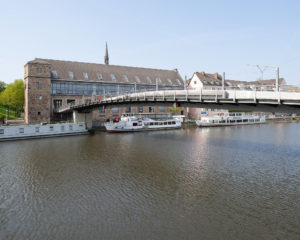 This bridge for pedestrians and cyclists, which connects the districts of Mitte and Unterneustadt, was renamed only about a year ago after Walter Lübcke, the district president of Kassel, who was murdered by right-wing extremists in 2019. In renaming the bridge, the city was also responding to the controversy around the Nazi past of its former mayor, Karl Branner, after whom the structure was named in 2000.
Here, the Nhà Sàn Collective situates a mat, an object often doubles as a site of gathering, in its off-duty state. Here, too, Black Quantum Futurism's installation, resembling a water clock, serves as a hub for memories, and as a stage.
Directions
Walter-Lübcke-Brücke, 34117 Kassel
ˇ
Accessibility
Access:
The bridge is accessible at ground level.
Bathroom:
No bathrooms are available.
Parking:
You can find a detailed map of the city of Kassel here (in German language). Selection in the topic layer "Themen-Layer": Verkehr & Mobilität + Behindertenparkplätze
lumbung members & artists
Lumbung Program on site