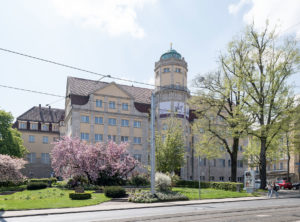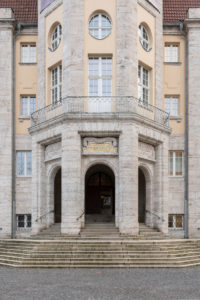 In contrast to the nearby inner city, this historical building, inaugurated in 1913 for Kassel's millennial jubilee, survived World War II almost undamaged. In the postwar period, the museum housed a famous collection of Flemish and Dutch Old Masters. After extensive renovations, it reopened in 2016 as a museum dedicated to the history of Hesse. The region's development is richly presented through exhibits on the prehistory and early history of the area, the landgraves, and contemporary culture, among others.
On the first floor, Berlin-based artist Pınar Öğrenci shows a film and an installation of hand-sewn paper tissues produced by women who suffered from the armed conflict around Van, Turkey. The artist, who had to leave her homeland in 2015, deals with conditions of oppression and exclusion in her father's village of Moks, in Van. In the heraldry room above, the collective FAFSWAG presents installations, screenings, and a digital sculpture. They also invite visitors to participate in a video game dedicated to the queer, non-white body and to the expressive and body-emphasizing dance movements of voguing.
Directions
Brüder-Grimm-Platz 5, 34117 Kassel
ˇ
Accessibility
Access:
Wheelchair users can use the side entrance. There is a doorbell there. There is a large elevator in the building that can be used to go from the ground floor to the 3rd floor. For the two intermediate levels (permanent exhibition and 1st floor to the antique hall), there are small open lifting devices, which offer space for a maximum of one e-wheelchair (maximum weight of 350 kg).
Bathrooms:
There is a spacious, barrier-free bathroom on the bottom floor. An intermediate door connects it to a first-aid room with a couch, so it can also be used as a barrier-free changing place. Please inform the staff beforehand so that it will be opened.
A baby changing table is available.
Parking:
You can find a detailed map of the city of Kassel here (in German language). Selection in the topic layer "Themen-Layer": Verkehr & Mobilität + Behindertenparkplätze
lumbung members & artists
Lumbung Program on site