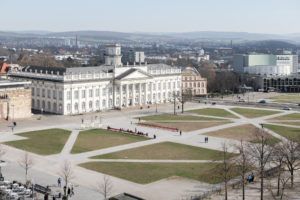 Friedrichsplatz is one of Germany's largest inner-city public squares. Laid out in the eighteenth century and named after Landgrave Friedrich II, it is a place of condensed history, inscribed by the monumental pomp of the Wilhelmine era, the parades of the Nazi era, the destruction of World War II, and the postwar reconstruction. Several documenta artists have left their traces here: Joseph Beuys planted the first oaks of his 7000 Eichen (1982) in front of the Fridericianum; Walter De Maria's Erdkilometer (1977) sinks deep into the earth; Horst H. Baumann's laser sculpture Laserscape Kassel (1977) spans the city, from the square to the Bergpark Wilhelmshöhe; and Haus-Rucker-Co's Rahmenbau (1977) forms a window onto the landscape of the Karlsaue.
This year, on Friedrichsplatz, Tent Embassy by artist and activist Richard Bell, which has been traveling the world since 2013, is a note of resistance against colonial power. A digital sign mounted onto the Fridericianum's façade displays the amount the Australian government owes Aboriginal and Torres Strait Islander peoples, from 1901 to the present.
In addition, the documenta food market has set up its food trucks and cargo bikes here. The gastronomic offer is based on sustainably and organically grown food from the region.
Directions
Friedrichsplatz, 34117 Kassel
ˇ
Accessibility
Access;
Friedrichsplatz is mostly level and has a ramp in the necessary places. Except for some lawns, the surface consists of easily passable gravel; the ground right in front of the Fridericianum building consists of cobblestones. The ground at the Food Market consists of easily passable gravel.
Bathrooms:
Regular, barrier-free bathrooms are available in outdoor containers, as well as in the Fridericianum building, which is in the immediate vicinity. There is also the possibility to use a barrier-free changing place including a couch and a hoist.
lumbung members & artists
Lumbung Program on site