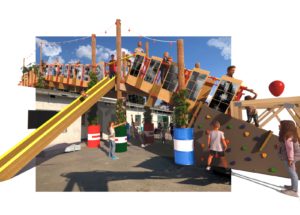 Jumping in Hanoi is an art project care of the collective Recetas Urbanas, which kicked off in Kassel on Monday, May 9, 2022.
lumbung member OFF-Biennale Budapest has invited this architecture collective to participate in documenta fifteen. In collaboration with two Unterneustadt elementary schools, a bridge made of recycled materials will be created, spanning the building of the boat rental Bootsverleih Ahoi on the Fulda River.
Seville-based collective Recetas Urbanas centered around Santiago Cirugeda and Alice Attout have been realizing projects of this kind for 15 years now. The bridge was designed together with the pupils of Kassel's Unterneustadt elementary schools. The bridge leads over the boathouse forming a viewing platform at its highest point. It is part of the concept "the game we play" of OFF-Biennale Budapest and contains playful elements such as climbing features. Experts will lead the Jumping in Hanoi building workshop and explain how to use the tools. Participation is open to all, regardless of previous experience. Those who prefer to bring food, music or good humor are also welcome.
Once documenta fifteen draws to a close after its 100 days, the bridge will be split in half and relocated to each of the schools. Both parts will be reused as playing structures or open classrooms, which will be redesigned through workshops with the schools.
You can find the registration form here (in German). If interested, please complete and send it by e-mail to: garazi@recetasurbanas.net.