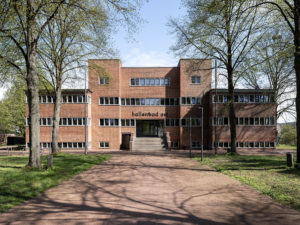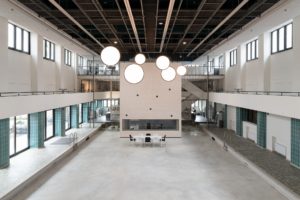 Kassel's longtime residents still remember swimming at the Hallenbad Ost. The indoor swimming pool closed in 2009, remaining empty for almost a decade until it was nearly demolished. Today, the Hallenbad Ost, built in 1929, is one of the city's few buildings in the Bauhaus style. It has since been listed on the historical register and represents an architectural highlight in the industrial district of Bettenhausen.
This is the first time the Hallenbad Ost has been used for a documenta exhibition. Here, the Indonesian collective Taring Padi presents its archive across 600 square meters. Informed by working-class experiences, the collective regards organization, education, and agitation as its primary tasks. This retrospective showcases artworks from a twenty-two-year period and includes large-format banners, woodcut posters, and wayang kardus (life-size cardboard puppets).
Directions
Leipziger Str. 99, 34123 Kassel
ˇ
Accessibility
Access:
The main entrance is accessible via an elevator (110 x 140 cm). There please press a button so that the supervisor is informed. All exhibition rooms are wheelchair accessible via an elevator in the building. The area of the concrete basin can be accessed via a ramp (approx. 8% incline). If you need assistance, please contact our staff.
Bathrooms:
A barrier-free bathroom is available. This will be unlocked by an guard.
Parking:
You can find a detailed map of the city of Kassel here (in German language). Selection in the topic layer "Themen-Layer": Verkehr & Mobilität + Behindertenparkplätze
lumbung members & artists
Lumbung Program on site