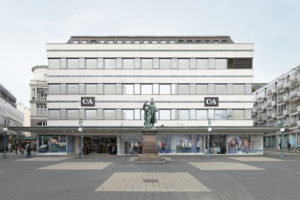 The C&A clothing store was built in the 1960s on the site where one of Kassel's most elegant townhouses once stood. In 1770, work began on the Palais Waitz von Eschen, a stately city palace which—like much of the city center—was destroyed on October 22, 1943, in the largest bombing raid on Kassel by Allied forces. A balustrade with fountains was all that survived, where the German Federal Post Office built a large sorting office in 1955, which functioned as a temporary post office during the first documenta. When the C&A store was built, the balustrade and fountains disappeared.
A simple, unornamented facade now blends in with the cityscape—typical of the monotony of West Germany's rebuilt inner cities after the destruction of World War II. A monument in front of the building recalls the site's former glory and the reason the square is called Opernplatz (Opera Square): it is dedicated to Louis Spohr (1784–1859), the court's director of music in the nineteenth century and a composer for the Kassel Opera. Today, people wait in front of it for the tram. Like many German companies, C&A profited under National Socialism from the seizure of Jewish assets and forced labor; the company was also criticized for poor working conditions in its global textile production. Today, it participates in the campaign Aktiv gegen Kinderarbeit (Active against Child Labor) and is said to be the world's largest buyer of organic cotton.
The Indonesian collective Taring Padi is displaying a large-format painted banner on the C&A façade. Street protests, woodcut workshops, art carnivals, and exhibitions in unexpected places are just some aspects of the collective's practice.
Directions
Obere Königsstraße 35, 34117 Kassel
ˇ
Accessibility
Access:
The façade is located in the center of Kassel. It is wheelchair accessible and at ground level.
Bathrooms:
No bathrooms are available.
Parking:
You can find a detailed map of the city of Kassel here (in German language). Selection in the topic layer "Themen-Layer": Verkehr & Mobilität + Behindertenparkplätze
lumbung members & artists
Lumbung Program on site