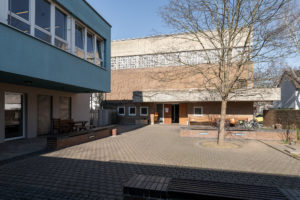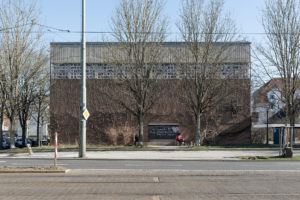 The Neue Brüderkirche was built in 1971; it is one of the most unusual sacred buildings of postwar modernism in Kassel. A spire was part of the original design, but it was cut to save money for developmental projects. Since 2012, the Neue Brüderkirche has served as a church for vespers.
During documenta fifteen, ook_ has collaboratively developed ook_visitorZentrum on Weserstrasse 26. ook_ consists of various groups of friends, which are also part of the artists still growing name: ook_ [reinaart vanhoe, Neue Brüderkirche, Espora, me_sobat, Colorlabor, graanschuur Tarwewijk, Elaine W. Ho, Bartira, Wok The Rock, COLLECTive, k. format, Take-A-Way, Plan B, Dynamitas unlimited …]. Here, the group offers workshops for other collectives and visitors. Many things can be produced here, from house altars to self-printed magazines.
Directions
Weserstraße 26, 34125 Kassel
ˇ
Accessibility
Access:
This venue is completely wheelchair accessible. There is an elevator (110 x 140 cm) to all levels. The inner courtyard is at ground level.
Bathrooms:
Bathrooms and one barrier-free bathroom are located on the ground floor.
Parking:
You can find a detailed map of the city of Kassel here (in German language). Selection in the topic layer "Themen-Layer": Verkehr & Mobilität + Behindertenparkplätze
lumbung members & artists
Lumbung Program on site