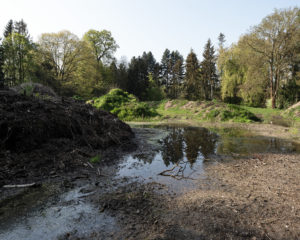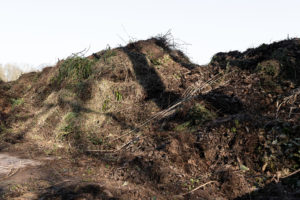 Near the Greenhouse in the Karlsaue is a compost heap used by the landscape gardeners of the Museumslandschaft Hessen Kassel (MHK).
In this "feral" area that escapes human design, La Intermundial Holobiente has created a habitat for The Book of the Ten Thousand Things, a book created collectively by seven artists and seven writers around the idea that the main text on it has been written by a nonhuman being. Human and nonhuman agencies play their part in allowing the visitor to have a contemplative, unwinding experience.
Directions
In the middle of the park, on the height Auedamm 27.
Coordinates: 7FXV+C5, 34121 Kassel
ˇ
Accessibility
Access:
The grounds of the park consist of coarse to fine gravel and turf.
Ground level entrances to this part of the Karlsaue are mainly located east of the park, close to the street "Am Auedamm". We recommend parking on this street (parking lot Auedamm) and using one of the park entrances. The compost heap is not fully wheelchair accessible. The terrace from which you look at the work is accessible by stairs. The work can still be seen partially from below.
Bathroom:
No bathrooms are available.
Parking:
Ground level entrances to this part of the Karlsaue are mainly located east of the park, close to the street "Am Auedamm". We recommend parking on this street (parking lot Auedamm) and using one of the park entrances.
You can find a detailed map of the city of Kassel here (in German language). Selection in the topic layer "Themen-Layer": Verkehr & Mobilität + Behindertenparkplätze
lumbung members & artists
Lumbung Program on site