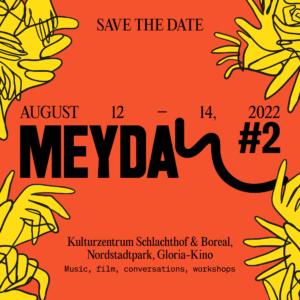 Venues
Kulturzentrum Schlachthof, Boreal, Nordstadtpark
Mombachstraße 10–12, 34127 Kassel
Friday and Saturday from 2 pm, Sunday 2–8 pm
Friedrich-Ebert-Straße 3, 34117 Kassel
Friday and Saturday 7–10 pm, Sunday 5.15–10 pm
Program
August 12 to 14, 2022, will see documenta fifteen host the second in a series of three Meydan weekends. With free admission, the event will feature concerts and DJ sets, a flea market, talks, and workshops in the north of Kassel at the cultural center Kulturzentrum Schlachthof, at Boreal, and in the adjacent Nordstadtpark. The movie theater Gloria-Kino will screen the film program GDR International curated for Meydan #2.
Meydan takes place every second weekend of the month during documenta fifteen: July 8–10, August 12–14, and September 9–11, 2022. Meydan in Urdu, Fārsi, Ukrainian, Turkish and Arabic refers to an accessible common space in a city, such as a square or public park, where people come together. It's an accessible space for having assemblies to discuss, to dissent, or to celebrate.
The program is developed in collaboration with the Kassel ekosistem and facilitates various forms of social gathering. For Meydan #2, documenta fifteen is collaborating with Kulturzentrum Schlachthof.
Music and Composting Knowledge at Kulturzentrum Schlachthof, Boreal, and Nordstadtpark
As part of Meydan #2, the grand opening of the 24th Kassel World Music Festival at Kulturzentrum Schlachthof will take place at Boreal and Nordstadtpark. Musicians, such as Ebow, Dugri, Khun Narin's Electric Phin Band, La Nefera, Light in Babylon, Nina Ogot, TootArd, Yuriy Gurzhy, and many more, will be performing at Nordstadtpark. In addition, collectives Alvozay and Room 4 Resistance are invited to host performances, parties, DJ sets, and workshops.
Meydan #2 also includes gatherings with Composting Knowledge, an ongoing experimental network for knowledge production, initiated by ruruHaus in Kassel. Based on the idea of collectively cultivated compost, it brings together various organic materials and resources—such as knowledge, time, ideas, spaces, or funds—to embrace cooperative, non-hierarchical, neighborhood centered principles. Currently the composting network reunites over twenty participants from Kassel, Tokyo, Sofia, Holualoa, Singapore, Beirut, Zurich, Toronto, Stockholm, and London.
GDR International at Gloria-Kino
For the GDR International film program, curator Tobias Hering has chosen films by Peter Ulbrich, Emile de Antonio, and Chetna Vora to illuminate how the internationalist agenda of the socialist GDR impacted the country's film production and film policy. The program addresses the extent to which East German solidarity with independence movements in the Global South—as a by-product of the delegitimization of the GDR in official German historiography—is still not adequately appreciated. The films will be shown in English or in German with English subtitles.
GDR International is Tobias Hering's response to the film program of the lumbung artists, whose contributions are being shown at the Gloria movie theater during documenta fifteen. Here he mentions the special significance of archives as testimonies of parallel history/stories and networks of solidarity within the context of documenta fifteen.
The full program of Meydan #2 can be viewed in the calendar.