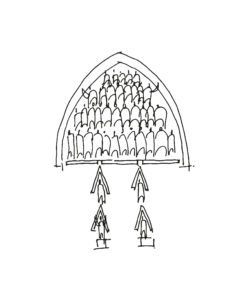 Each edition of the series is dedicated to one of the lumbung values: Local Anchor, Humor, Generosity, Independence, Transparency, Sufficiency, and Regeneration. The format dives deeper into the background of the artistic concept for documenta fifteen and illuminates the idea of lumbung from many different angles.
Through conversations with a variety of guests, lumbung calling will explore the rich meaning of lumbung across multiple disciplines, points of view, and contexts within an artistic framing. The invited protagonists have faced major challenges and initiated true revolutions on various scales: academics, cultural activists, independent researchers, organic farmers, fishermen, and festival organizers, among others.
lumbung calling will take place on the first Saturday of every month over seven sessions, from April to October 2021. The conversation series will begin digitally through documenta fifteen's website and its social media channels YouTube and Facebook. As soon as the restrictions around the COVID-19 pandemic allow, lumbung calling will shift to a hybrid format and eventually take place as a physical event in Kassel.
lumbung as a set of values and a cosmology
With its unique shapes and styles, lumbung is an easily recognizable building in Indonesia, similar to a barn. In the official dictionary of the Indonesian language, Kamus Besar Bahasa Indonesia, lumbung is defined as "a container to store agricultural products, commonly rice, in the form of a house on stilts with walls of woven wood or bamboo." This definition has implications for the way lumbung is interpreted: lumbung can be defined as a place to store harvested crops, particularly in agrarian societies. At the same time, this description confines the meaning of the word to a distinctive architecture. As a practice, however, lumbung transcends its physical appearance as a building and expands to include spaces beyond the agricultural. In Indonesia's cultural discourse, the term lumbung is used to describe shared collective resources. Seen from this point of view, lumbung is not only a building or object but also a set of values and a cosmology that describes the living practice of a society. It is evidence of a communal life marked by the spirit of collaboration, and its characteristics can be traced back to premodern societies. Today, the accelerated development and modernization of predominantly capitalist modes of production demand a constant redefinition of values. lumbung calling asks how these values can be translated into artistic practice and open up new spaces for conversation.
All lumbung calling dates
Local Anchor, Saturday, April 3, 2021
Humor, Saturday, May 1, 2021
Independence, Saturday, June 5, 2021
Generosity, Saturday, July 3, 2021
Transparency, Saturday, August 7, 2021
Sufficiency, Saturday, September 4, 2021
Regeneration, Saturday, October 2, 2021