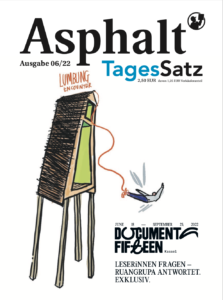 For the June issue, questions were posed by Asphalt readers to ruangrupa and the Artistic Team of documenta fifteen. The twelve questions were answered exclusively for Asphalt, whether in text, pictures or as a collage. Additionaly, you can find an insight into the first events in June.
The current issue of Asphalt is now available on the streets of Kassel, Göttingen, and Hanover.
Digital and mail order copies can be purchased by sending an e-mail to vertrieb@asphalt-magazin.de.