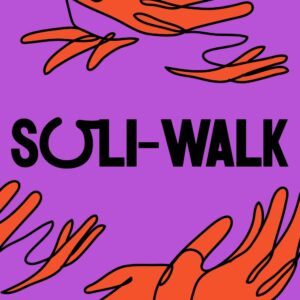 The Soli Walks (Solidarity Walks) are intended to give people from Kassel, but also visitors in general, the opportunity to explore the freely accessible outdoor areas of documenta fifteen together with sobat-sobat, this year's art mediators.
The format is intended as a solidary offer to give people who have not yet been able to attend documenta because of the high admission prices access to a detailed examination of the artistic content.
For the Soli Walks no additional solidarity tickets are necessary – just come by!
Solidarity Ticket
A solidarity ticket is based on the principle of solidarity: one person buys a solidarity ticket and thus enables another person free admission to documenta fifteen. The use of a solidarity ticket is depending on how many people buy a solidarity ticket and thus make free tickets available to other people. Accordingly, there is no entitlement to a solidarity ticket.
The solidarity tickets are available at ruruHaus during the exhibition period. No special authorization is required to receive the solidarity ticket. If you would like to buy a solidarity ticket, it is already possible via our online shop and at advance ticket sales points.