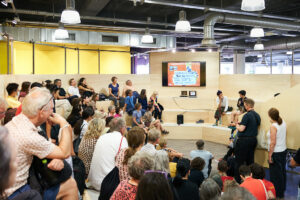 As an anchor point of Kassel's ekosistem, ruruHaus already invited groups from diverse communities, artists, collectives, and students to participate in this place and "activate" it together ahead of the opening of documenta fifteen.
Those contributing to ruruHaus are people or groups from Kassel and the surrounding area involved in the creation and activation of ruruHaus with their projects, ideas, and strategies. Together they create a space for encounters and provide mutual support. Since the opening of ruruHaus in 2020, its ekosistem has grown steadily. Members of this network include:
Buchkinder Kassel, Karibu Kassel e.V., Kassel postkolonial, k.format, Gärtnerei Fuldaaue, Hugenottenhaus, Essbare Stadt e.V., Freies Radio Kassel e.V., Galeria Kollektiva, Baunataler Diakonie, KolorCubes, Kopiloten e.V., kmmn_practice, Kunstgespräche, //KOMPOST, Moving School, Kulturfabrik Salzmann e.V., Omas gegen Rechts, Raamwerk e.V., Ohrenkratzer e.V., Radio Rasclat, RHO Kollektiv, Rote Rübe e.V., Rotopol, Shards, Social Science Lab, Stadtteilzentrum Wesertor, Station of Commons, Streetbolzer e.V., Swingin' Kassel, Tanz*werk Kassel e.V., Terrarista TV, The Pawn Broker, The Rapid Publisher, ZukunftsDorf22, and many more.

ruruHaus Program
During documenta fifteen, ruruhaus underground hosts the Kassel ekosistem and friends of documenta fifteen to organize events, workshops, readings, and lectures or to meet to socialize and network. A free program runs here almost every day.
The current calendar of events of the ruruHaus is available here and also in the calendar of events of documenta fifteen.
Projects in ruruHaus
In the basement of ruruHaus, not only will a diverse program of events take place—various projects from the lumbung network and the Kassel ekosistem will also be presented here.
Beeholder – Beecoin – BeeDAO by lumbung member ZK/U – Center for Art and Urbanistics, a project care of the artist collective KUNSTrePUBLIK (Matthias Einhoff, Philip Horst, Harry Sachs), emerges from a blockchain-based artistic practice. As a Decentralized Autonomous Organization (DAO), the project works to improve the living conditions of bees. 15 beekeepers from Kassel are participating in this project and visitors can get involved.
MAP "A Landscape" Local Knowledge Kassel East is an urban walk care of MAP Markus Ambach Projekte in collaboration with Al Wali, Blüchergarten, Braumanufaktur Steckenpferd, Essbare Stadt, GemüseSelbstErnte am Waldauer Fußweg, KGV Schwanenwiese, Meister Florian, Mike Euler, MiLa Unterneustadt, Renèe Tribble/TU Dortmund, SOLAWI Gärtnerei Fuldaaue, Rene Wagner, and ZK/U. The focus is on the local knowledge of various initiatives in Kassel East which can be discovered on a walk from the Fulda to Bettenhausen.
KSV Ultra Haus is a joint project by KSV Hessen Kassel, Fanprojekt Fullestadt, the Ultras from Block 30, and cartoonist Burkhardt Fritsche that takes a critical look at the commercialization of modern soccer.