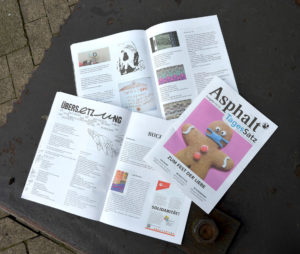 The December issue of Asphalt presents another contribution of harvests of the various mini-majelis, made in cooperation with the regional street magazine. This time: Kawan.
The seven artists and collectives of the mini-majelis, titled Kawan—Indonesian for friends, comrades, companions—have created a folding poem for their contribution.
The issue no. 12/21 is now available on the streets of Kassel, Göttingen, and Hanover. Digital and mail order copies can also be purchased by sending an e-mail to: vertrieb@asphalt-magazin.de.