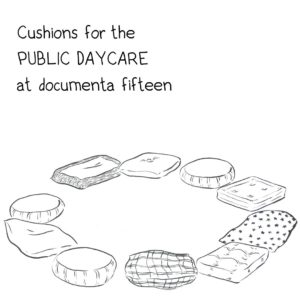 For the duration of documenta fifteen lumbung artist Graziela Kunsch transforms one room of Fridericianum's ground floor into a daycare, which will be open daily from 10 am until 5 pm for babies up to three years old and their mothers, fathers, or carers.
The artist divides the room into areas of care to eat, sleep, and change nappies and clothes, where the parents or carers look after their babies and spaces for playing, where the babies "look after themselves".
Call for Donations
In order to comfortably furnish the rooms, and to involve local families since the very construction of the space, Kunsch calls for donations or loans of pillows. For specific groups of parents and babies zafus (meditation or yoga pillows) are needed. For the rest of the space it can be any type of cushion – used or new, plain or patterned.
If you want to donate or lend one or more cushions, please bring them to the backyard of the Fridericianum (Karl-Bernhardi-Straße, 34117 Kassel) to the box next to the first door on the right.
As of now until Thursday, June 9, 2022