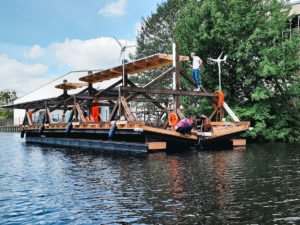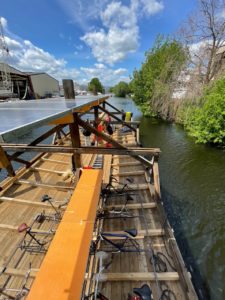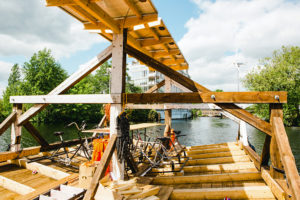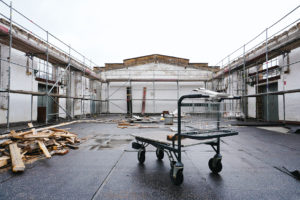 On Thursday, June 2, 2022, from 7 pm the citizenship starts in Berlin. In June and July 2022, the roof of lumbung member ZK/U – Zentrum für Kunst und Urbanistik travels as citizenship from Berlin to Kassel for documenta fifteen. The roof, which has been converted into a ship, is powered by the support of the people along the route—from cultural exchange to food provisions to accommodation and energy generation.
For a decade, the artists of Berlin collective KUNSTrePUBLIK have worked together under the roof of their institution ZK/U – Zentrum für Kunst und Urbanistik in Berlin-Moabit. Now the old wooden gable roof has been dismantled and turned upside down as a contribution to documenta fifteen. The 60-day journey will be completed entirely without fossil fuels. In addition to a pedal and rowing system and external traction from rowing clubs and swimming teams, the vessel citizenship has been equipped with sustainable and recycled propulsion systems in a collaboration between the Fraunhofer Institute for Energy Economics and Energy Systems Technology and Volkswagen.
Starting in June, the ship will call at various locations along the riverbanks of the Havel, Mittellandkanal, Weser, and Fulda. Concerts, workshops, artistic interventions, and joint cooking evenings with local and international art actors and interested people from the region will transform the vessel on its journey from ship to citizenship.
After approximately 60 days—with arrival planned for Saturday, July 23, 2022—the citizenship will reach Kassel. On the Hiroshima-Ufer, the ship will be flipped back over again to be transformed into a communally usable structure, housing and documenting artifacts and rituals from the voyage, as well as facilitating exchange with citizens of Kassel.
The community program is created in collaboration with Jan van Esch. The design and construction of the boat was done by Jonas Hohmann. The interior of the boat consists of modules for art and everyday life XYZ OPEN CITY by N55 and Till Wolfer.