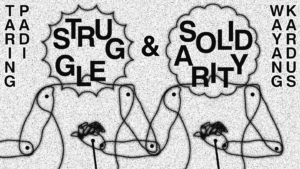 Wayang kardus, Indonesian for recycled cardboard puppets, are part of Taring Padi's artistic practice, and are used to support people in their struggles for social justice.
Together with the artists, the workshop participants learn how to make those cardboard puppets. These will also be included in the lumbung artist's contribution to documenta fifteen.
View impressions of the last Wayang Kardus at Framer Framed in Amsterdam.
Register here for the Monday, April 11 and Tuesday, 12 in Kempten, Germany
More workshops are planned on:
Tuesday, May 10 and Wednesday, 11, 2022, in Heidelberg, Germany
Wednesday, June 8 until Friday, 10, 2022, in Kassel, Germany