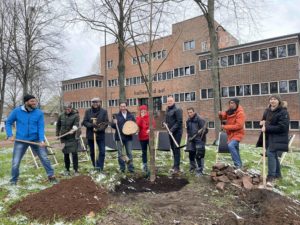 The Kiri or paulownia tree is considered the fastest growing tree in the world. Under favorable conditions it is able to grow over five meters in one year and thus produce as much wood by volume as an oak. In so doing the Kiri tree absorbs a particularly high level of carbon dioxide.
In front of documenta fifteen exhibition venue Hallenbad Ost on Friday April 1, 2022, Iswanto Hartono and Reza Afisina from ruangrupa along with the Director General of documenta und Museum Fridericianum gGmbH Sabine Schormann and architects and planners from the Association of German Architects (Bund Deutscher Architektinnen und Architekten) as well as staff from the Environment and Gardens Office planted the first of 100 Kiri trees.
The project
Overall, the project is one in three parts: a catwalk, a pavilion, and the 100 trees. The catwalk is a walkway made of Kiri wood leading from Wilhelmshöher Allee to Hallenbad Ost – symbolizing the desire for better transport links to eastern parts of the city of Kassel and the stronger focus on Kassel's eastern districts as a result of documenta fifteen. Furthermore, in front of Hallenbad Ost a pavilion made of Kiri wood serves as a Reflecting Point. The Reflecting Points invite passers-by to rest and leisure. A total of five Reflecting Points are planned to be spread across the Kassel cityscape. The architects and planners John Kosmalla, Thomas Meyer, Marc Köhler, and José Vilches Maraboli from BDA Gruppe Kassel are responsible for designing the first Reflecting Point at Hallenbad Ost.
The project aims to use CO2-saving building materials, combat climate-related overheating of cities, and ultimately strengthen the attention for the eastern part of Kassel.
At documenta fifteen, 100 Kiri tree saplings will be given away to visitors. Details of how to obtain these will be announced shortly. The aim is for the urban greening initiative to continue to grow beyond Kassel – and also be spread throughout the world by documenta fifteen visitors.
WeGrow, a company specializing in Kiri trees, is providing the saplings.