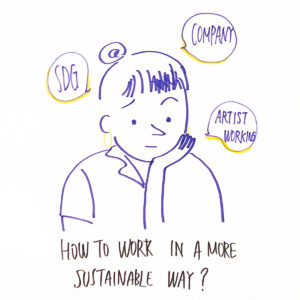 On July 23 and 24, 2021, documenta fifteen hosted a symposium at ruruHaus on material circulation within the arts and cultural sector. The temporary nature of art exhibitions results in the short-term implementation of resources, which is why documenta fifteen has become involved in the subject of sustainable material distribution.
For this occasion, representatives of documenta fifteen, ruangrupa, and various German-speaking initiatives dealing with the circulation of materials, came together for a symposium to discuss the potential of sustainable methods of distribution and their implementation.
The aim is to build a network of collectives and initiatives to tackle the reuse and dispersal of materials. Here, the exchange of knowledge, motivation, and experience is as important as the sharing of material resources. Particular attention will be paid towards providing a platform for the groups involved and, ultimately, the foundation of an umbrella organization.
For the fifteenth edition of documenta, ruangrupa's curatorial approach focuses on principles of collectivity, resource building, and equitable distribution. Attempts will be made to consider and implement, where possible, sustainable processes for the entire exhibition in terms of both social aspects and environmental issues.
The collaboration entails:
using shared resources
designing venues
the implementation of workshops for the transfer of knowledge
the preparation of materials for further use and distribution to the network
the use of common resources
Participants:
allerleih e.V. – Library of Things, Kassel
bauteilbörse bremen
Colorlabor of the Verbund Offener Werkstätten e.V., Kassel
documenta archiv, Kassel
documenta fifteen, Kassel
InRessBau, Kassel
The Institute for Applied Heterotopia, Nuremberg
Iswanto Hartono, ruangrupa member
Koalition Freie Szene Berlin, AG Materielle Infrastruktur
Konglomerat e.V., Dresden
Kulturamt der Stadt Kassel
KUNST-STOFFE – Zentralstelle für wiederverwendbare Materialien – e.V., Berlin
Materialbuffet e.V, Leipzig
Materialverteilung, Kassel
mela wear GmbH, Kassel
MFA – Material Für Alle, Frankfurt am Main
Museum Hessen Kassel
Materialdepot gUG, Dresden
OFFCUT Genossenschaft, Zürich
Recycling-Kosmos, Vienna
SHARDS – Fliesen aus Bauschutt, Kassel
Sozialamt/ Kommunale Arbeitsförderung Stadt Kassel
TRASH GALORE GbR, Leipzig
Treibgut, Munich
Trillhof Handelsgesellschaft mbH, Kassel
University of Kassel
Weitergeben.org, Hof
Zündstoffe – Materialvermittlung, Dresden