"lumbung stories" podcast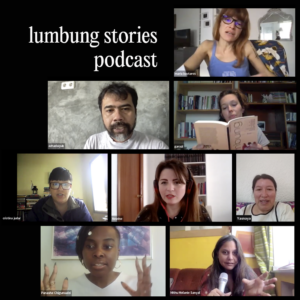 The writer María Bastarós together with harriet c. brown give an introduction to lumbung cosmologies through interviews and readings around the lumbung stories books.
lumbung stories is a project coordinated by the publishing house consonni within the framework of documenta fifteen with the collaboration of 8 publishers. lumbung stories is a book with 8 editions, in 7 languages, a radically collective book. Each publisher proposes its usual ekosistem of production and distribution. It raises those who write, those who can make use of fiction, to recreate the idea of the common in an unprecedented way.
The Almadía publishing house from Mexico presents Yásnaya Elena Aguilar who writes about "tequio" in Spanish. Txalaparta presents Uxue Alberdi, who writes in Basque, to explore the idea of "auzolan". From Brazil Dublinense gives us Cristina Judar, writing in Portuguese about "mutirão". Al-Mutawassit introduces Nesrine A Khoury, who writes in Arabic on "naffir" and "fa-zaar". Cassava Republic Press presents Panashe Chigumadzi, writing in English about intergenerational and transhistorical struggle through "ubuntu." Mithu Sanyal from Hatje Cantz and documenta fifteen introduces "Allmende" in German. And Marjin Kiri presents the writer Azhari Ayub, who writes about "lumbung" in Indonesian.
This podcast is part of lumbung radio. 
Languages: English and readings in original languages (Bahasa Indonesia, Basque, Arabic, Spanish, English and German)