Event
Randfilmfest 2021: Introducing Afrofutur 4000
Location: ruruHaus, Obere Königsstraße 43, 34117 Kassel
Barrier-free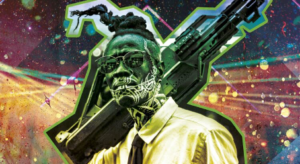 On September 24 and 25, 2021, ruruHaus hosts various events of the Afrofutur 4000 series organized by Randfilmfest 2021.
All events of the series and further information about the Randfilmfest can be found here.
Program
From 6.30 pm
Talk
"Afrofuturism and what it means to us"
with Nomaswazi Nthombeni (sociologist), Eunice Njoki (sociologist/anti-discrimination consultant), Kira Goldbourn (artist) and Feven Keleta (Afrofuturist)
The Participants introduce the topic of Afrofuturism and examine the various manifestations of the art and cultural movement from historical, social and also personal perspectives.
Screening
Hello Rain (Short) (2018), 30 min, Nigeria, Director: C.J. Obasi, Written by Nnedi Okorafor.
A witch scientist creates wigs through an alchemical combination of juju and technology that give her and her friends supernatural powers. It doesn't take long for the situation to get completely out of control.
Readings
Binti by Nnedi Okorafor, read by Nomaswazi Nthombeni
In a distant future, Binti becomes the first Himba to gain admission to the prestigious Oomza University on the other side of the galaxy. However, starting her studies also means giving up her family and social life forever. On her intergalactic journey, however, tests await the young educational climber for which nothing could have prepared her.
Parable of Sower by Octavia Butler (1993)
In 2025, with the world descending into madness and anarchy, one woman begins a fateful journey toward a better future.
Opening hours
Friday, September 24, 2021: from 6.30 pm
Saturday, September 25, 2021: from 6.30 pm
Tickets
Singular tickets:
7,- € / 6,50 € (reduced).
Available at the box office in the Bali cinemas, in the Film-Shop and in ruruHaus.
Festival tickets:
60,- € / 50,- € (reduced)
Available at the box office and in advance.
Advance ticket sale at:
Film-Shop
Erzbergerstrasse 12
34117 Kassel
Bali Cinemas
Rainer-Dierichs-Platz 1
34117 Kassel
COVID-19 notice
Access to ruruHaus is possible only with proof of recovery, vaccination or current negative test, which is not older than 24 hours (3G rule).
The event takes place under consideration of currently valid hygiene guidelines. There is an obligation to cover the mouth and nose in the entire indoor area. The data of the visitors will be recorded in order to trace a possible chain of infection. The data protection regulation applies.
Languages
The program is held in English and German.
Directions
ruruHaus, Obere Königsstraße 43, 34117 Kassel
Infos
Location: ruruHaus, Obere Königsstraße 43, 34117 Kassel
Barrier-free