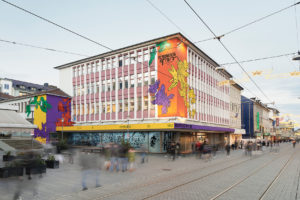 On Wednesday, March 23, 2022 at 5 pm, majelis 55plus started as a regular meeting for people 55 and older at ruruHaus in Kassel. They can meet there every second Wednesday to discover documenta fifteen and contemporary art together.
The majelis (Indonesian for "gathering") offers stimulation for an in-depth examination of documenta fifteen. Encounters with experts provide background knowledge.
Before documenta fifteen begins in Kassel on June 18, the group first approaches the lumbung practice, whose values and ideas the Artistic Direction ruangrupa has based documenta fifteen on. This is the first time in the history of documenta that a collective is curating the exhibition. What does that change? What does lumbung mean? What role do lumbung values like generosity or humor play for documenta fifteen? Who are the participating artists and collectives? During the 100 days of documenta fifteen, the focus will be on experiencing the exhibition together and exchanging ideas about it.
Kezia Rosenkranz from the cooperation partner Akademie 55plus organizes the meetings in collaboration with documenta fifteen. All people 55 and older are welcome, regardless of whether they have been involved with contemporary art before or not.
Address
ruruHaus
Obere Königsstraße 43
34117 Kassel
Language
This event will take place in German.