Event
Garden talks and tour through Gärtnerei Fuldaaue with MADEYOULOOK and INLAND
by MADEYOULOOK, INLAND
Location: Gärtnerei Fuldaaue, Arndtstraße 14 34123 Kassel
Ticket: Donation based
Attendees: 30
Languages: English, German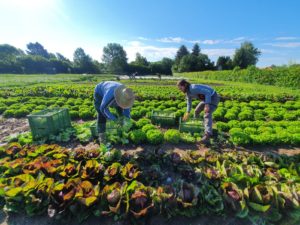 In collaboration with Gärtnerei Fuldaaue in Kassel, a guided tour of the gardens is taking place followed by a conversation between MADEYOULOOK, the collective INLAND, and members of the public, under a tree.
The conversation will focus on strategies of collective mobilization, the rural, and on re-imagining our relationship to land, among other themes present in INLAND's work.
This is a small-scale public event where gardeners, growing enthusiasts and other guests can sit together and engage in land-related discussions in a relaxed environment.
Gärtnerei Fuldaaue is part of Kassel Ekosistem
Details
Garden tour and talks on Saturday, June 4, 2022, 11 am–1 pm CEST
Address: Gärtnerei Fuldaaue, Arndtstraße 14 34123 Kassel
Language
The event takes place in English and German.
Directions
Gärtnerei Fuldaaue, Arndtstraße 14 34123 Kassel
Infos
Location: Gärtnerei Fuldaaue, Arndtstraße 14 34123 Kassel
Attendees: 30
Languages: English, German

Ticket: Donation based