Event
"Wayang Kardus" workshop
by Taring Padi
Location: Streetbolzer e.V., Struthbachweg 3, 34127 Kassel
Ticket: Free Entry
Languages: English, German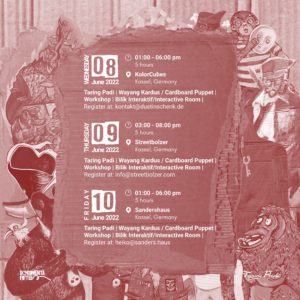 Wayang kardus, Indonesian for recycled cardboard puppets, are part of Taring Padi's artistic practice, and are used to support people in their struggles for social justice. In demonstrations, the typically life-sized cardboard figures served various purposes: to voice aspirations, to "enlarge" the masses, to lift the mood, to protect from the scorching sun and police violence.
Together with the artists, the workshop participants learn how to make those cardboard puppets. These will also be included in the lumbung artist's contribution to documenta fifteen.
View impressions of the last Wayang Kardus at Framer Framed in Amsterdam.
Streetbolzer e.V. is part of Kassel Ekosistem
Details
Open workshop on Thursday, June 9, 2022, 3–8 pm CEST
Streetbolzer e.V., Struthbachweg 3, 34127 Kassel
Language
The workshop will be held in English and German.
Upcoming workshops
Directions
Streetbolzer e.V., Struthbachweg 3, 34127 Kassel
Infos
Location: Streetbolzer e.V., Struthbachweg 3, 34127 Kassel
Languages: English, German

Ticket: Free Entry