Event
Lecture Series on Arts, Cultures, Policies & Educational Practices #6
Location: Online via Zoom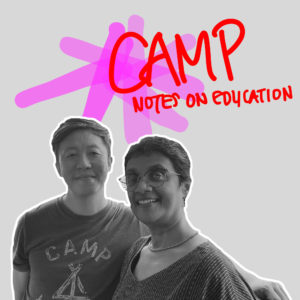 From September 2021 to February 2022, CAMP notes on education is running a series of lectures on Arts, Cultures, Policies, and Educational Practices. In nine online sessions, internationally renowned experts at the interface of Arts, Cultural Policy and Education will present their concepts and approaches. They will be talking about their research within their particular contexts. Through dialogue and knowledge-sharing, participants will have an opportunity to reflect on their own concepts, methods and practical experiences in the context of the upcoming documenta fifteen.
The curatorial approach of the artists' collective ruangrupa is to locate art in people's everyday lives and, with documenta fifteen, create a place for shared knowledge production. In line with this concept, the lecture series and its speakers will ask questions about the free and institutionalised spheres of arts and education. CAMP notes on education initiates a dialogue on the social and political factors that influence the emergence of artistic practice.
The series is organized in collaboration with the University of Hildesheim and the Academy of Fine Arts in Munich. The lectures will be moderated by students and held in English due to the presence of international speakers.
CAMP notes on education
CAMP notes on education is a glocal* network of teachers and learners in the fields of arts, arts history, aesthetics, cultural policy and arts education. CAMP uses the practice of lumbung as an opportunity to place the question of contemporary Arts Education in networked and global contexts. For example, what role does it play in relation to artistic and curatorial actors? How does it position itself in the current cultural policy discourse?
The contemporary practice of Arts Education needs new responses to translocal teaching and learning contexts. documenta fifteen should provide a framework for instigating structural change in these areas. lumbung allows CAMP participants to learn about new parameters for horizontal decision-making processes and resource allocation. In the coming weeks and months, CAMP will be working with a growing number of cooperation partners and networks to translate these values, rituals and organizational principles. It will be questioning the foundations and practices of Arts Mediation and looking for ways to learn in and from collectives.
With this focus, CAMP notes on education is constantly growing and opening up spaces for collective and project-based learning.
*glocal = global-local
Thursday, January 20, 2022:
Lecture: Listening to Performances of Difference: Negotiating Multiplicity with Dialogic Empathy
Speaker: Charlene Rajendra
The presentation will draw from the experience of five established Singapore theatre practitioners, Alvin Tan, Alfian Sa'at, Haresh Sharma, Kok Heng Leun and Ong Keng Sen, whose artistic works negotiate issues of cultural diversity and create spaces for audiences to encounter alternative perspectives that reconfigure normative notions of 'us' and 'them'. Attending to questions of inter-cultural conflict and the struggle to deal with prejudice, their collaborative and experimental approaches to theatre provide potent examples of inclusive and critical options for rethinking cultural identity.
Charlene Rajendran is a theatre educator, dramaturg and practitioner who is currently Assistant Professor at the National Institute of Education at Nanyang Technological University, Singapore. She is Co-Director of the Asian Dramaturgs' Network (ADN) and Lead Editor of the ADN Re/View. Her research interests include issues of identity in multicultural contexts, dramaturgy, play-based pedagogy and arts leadership.
Lecture: Sounding out Matters of the Nation through Visual Arts Education: Pedagogical Cues from Singapore Contemporary Artists
Speaker: Chee-Hoo Lum
This presentation offers critical perspectives of young Singapore contemporary artists in the articulation of their relationship with the nation state through their creative works and processes. The ambiguous and self-censoring ways with which artists articulate their opinions and speak about their works point to the layered and oftentimes subversive ways with which narratives of difference are weaved into the artistic outcomes as they negotiate and comment on state mechanisms. Pedagogical implications drawn from the works of these contemporary artists are suggested for working with primary and secondary school students within the visual art classroom to encourage a more critical approach towards sounding out matters of the nation.
Chee-Hoo Lum is associate professor of music education with the Visual and Performing Academic Group at the National Institute of Education (NIE) at Nanyang Technological University, Singapore. He is the coordinator of the NIE Centre for Arts Research in Education (CARE), an initiative of the UNESCO UNITWIN programme 'Arts Education Research for Cultural Diversity and Sustainable Development'. Chee-Hoo's research interests include issues towards identity, cultural diversity and multiculturalism, technology and globalization in music education; children's musical cultures; creativity and improvisation; and elementary music methods.
Language
Due to the international speakers all lectures will be held in English.
All Lecture Dates
Thursday, September 30, 2021
Speaker: Antje Budde
Thursday, October 14, 2021
Speakers: Emily Akuno & Mary Clare Kidenda
Thursday, October 28, 2021
Speakers: Samuel Ravengai, Milena Valeva & Yongfei Du
Thursday, November 25, 2021
Speakers: Patrique deGraft-Yankson & Osuanyi Quaicoo Essel
Thursday, December 9, 2021
Speaker: Meriam Bousselmi
Thursday, January 20, 2022
Speakers: Charlene Rajendran & Chee-Hoo Lum
Thursday, January 27, 2022
Speaker: Timo Jokela
Thursday, February 10, 2022
Speaker: Avi Sooful
Thursday, February 17, 2022
Speakers: Pepetual Mforbe & Paul Henri Souvenir Assako Assako
Infos
Location: Online via Zoom