Event
Lecture Series on Arts, Cultures, Policies & Educational Practices #2
Location: Online via Zoom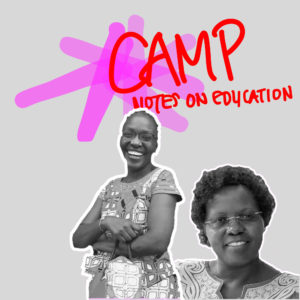 From September 2021 to February 2022, CAMP notes on education is running a series of lectures on Arts, Cultures, Policies, and Educational Practices. In nine online sessions, internationally renowned experts at the interface of Arts, Cultural Policy and Education will present their concepts and approaches. They will be talking about their research within their particular contexts. Through dialogue and knowledge-sharing, participants will have an opportunity to reflect on their own concepts, methods and practical experiences in the context of the upcoming documenta fifteen.
The curatorial approach of the artists' collective ruangrupa is to locate art in people's everyday lives and, with documenta fifteen, create a place for shared knowledge production. In line with this concept, the lecture series and its speakers will ask questions about the free and institutionalised spheres of arts and education. CAMP notes on education initiates a dialogue on the social and political factors that influence the emergence of artistic practice.
The series is organized in collaboration with the University of Hildesheim and the Academy of Fine Arts in Munich. The lectures will be moderated by students and held in English due to the presence of international speakers.
CAMP notes on education
CAMP notes on education is a glocal* network of teachers and learners in the fields of arts, arts history, aesthetics, cultural policy and arts education. CAMP uses the practice of lumbung as an opportunity to place the question of contemporary Arts Education in networked and global contexts. For example, what role does it play in relation to artistic and curatorial actors? How does it position itself in the current cultural policy discourse?
The contemporary practice of Arts Education needs new responses to translocal teaching and learning contexts. documenta fifteen should provide a framework for instigating structural change in these areas. lumbung allows CAMP participants to learn about new parameters for horizontal decision-making processes and resource allocation. In the coming weeks and months, CAMP will be working with a growing number of cooperation partners and networks to translate these values, rituals and organizational principles. It will be questioning the foundations and practices of Arts Mediation and looking for ways to learn in and from collectives.
With this focus, CAMP notes on education is constantly growing and opening up spaces for collective and project-based learning.
*glocal = global-local
Thursday, October 14, 2021: The Role of Competency-Based Education and Training / Music Education in Kenya
The Role of Competency-Based Education and Training to Enhance the Quality of Design Practice and Planning in Jua Kali artisan's Skills as a Community of Learners in Kenya
Speaker: Dr. Mary Clare Kidenda
Education and training of all Kenyans is critical in realizing the Kenya Vision 2030 because it provides quality education and training that is globally competitive. Therefore, the Citizens must be equipped with knowledge and skills that will enable them to become relevant to the changing social and economic demands. This lesson looks at how the Competency-Based Education and Training approach provides a remedial training solution for the Jua Kali community of learners by developing a Design Training Framework.
Mary Clare Kidenda is a senior lecturer and the Academic Team Leader in the Department of Design and Creative Media at The Technical University of Kenya with 36+ years of teaching experience in secondary schools and universities. Her research interest is in Design Practice and Planning in the informal sector and more recently in Visual Arts Therapy.
Music Education in Kenya – Persistent Thoughts by Emily Achieng' Akuno
Speaker: Prof. Emily Achieng' Akuno
The story of music education is coloured by political and economic activities and their impact on cultural perceptions, considerations and practices. This interrogation of Kenyan music education considers:
Concepts of and approaches to music education
Policy and theory
Culture at the heart of music education
Ultimately, the presentation seeks to tackle What we do, how we do it, and why in the name of music education?
Emily Achieng' Akuno is a professor of music of The Technical University of Kenya. Currently she serves as the Deputy Vice-Chancellor in charge of Academic Affairs at The Co-operative University of Kenya. She trained as a performer-educator in Kenya, USA and the UK. Her research interests veer towards cultural relevance in music education.
Moderators
Ana Manhey Ahrens and Franziska Batozynska
More information about the event can be found here.
Livestream
Thursday, October 14, 2021 at 12—1.30 pm (CET) via Zoom.
Everyone is invited to join in the discussion.
The lecture series will be broadcast live on the CAMP notes on education website and all sessions will be available there after the event.
Please note: the events will be filmed and archived. For more information on taking part, please see the Terms of Use, Privacy Policy, and Community Agreement of CAMP notes on education.
Language
Due to the international speakers all lectures will be held in English.
All lecture dates
Thursday, September 30, 2021
Speaker: Antje Budde
Thursday, October 14, 2021
Speakers: Emily Akuno & Mary Clare Kidenda
Thursday, October 28, 2021
Speakers: Samuel Ravengai, Milena Valeva & Yongfei Du
Thursday, November 25, 2021
Speakers: Patrique deGraft-Yankson & Osuanyi Quaicoo Essel
Thursday, December 9, 2021
Speaker: Meriam Bousselmi
Thursday, January 20, 2022
Speakers: Charlene Rajendran & Chee-Hoo Lum
Thursday, January 27, 2022
Speaker: Timo Jokela
Thursday, February 10, 2022
Speaker: Avi Sooful
Thursday, February 17, 2022
Speakers: Pepetual Mforbe & Paul Henri Souvenir Assako Assako
Infos
Location: Online via Zoom